When it comes to beauty, everyone has their style, regime and even holy grail products. Ageing happens to everyone, and since we can't turn back the clock, the only thing we can do is slow it down and go through it gracefully. By doing so, you will be taking better care of your skin. One of the best ways to do this is by going for regular facials.
Facials in Singapore are something that everyone seeks out for. It's a relatively straightforward process, calming and not as expensive as some aesthetic regimes but does the job regardless of making you feel a lot better about your skin. Facials can do so many things from tightening your skin, brightening your skin or even removing dark spots and dark circles under your eyes.
Let's look at some of Singapore's best beauty clinics where you can start working on improving your skin with all these excellent facials.
Credits: Aesop
Everyone has heard of Aesop, and it's apothecary approach to all their stores and products. So you can rest assured that the experience you will have here is going to be extremely calming and nourishing.
The Aesop Facial Appointment is known for its thoughtful design, and it offers 6 different customised treatments that were specifically designed and curated to nourish and stimulate your skin.
You can also expect a more personalised treatment since they have in-depth consultations which will determine the best treatment for you overall. Please note that they usually only have space for one customer at a time, so it's best to call and book in advance to reserve your spot.
Address: L4 Tangs Orchard, 310 Orchard Rd, Singapore, 238864
Website: aesop.com/sg / https://10to8.com/book/aesop-tangs/
Credits: MyCozyRoom
Imagine being in a decadent spa that has gold furnishing and amazing decor? Weill, that's just what My Cozy Room looks like so you're rest assured to not only have a great time but also be extremely pampered.
They focus on improving issues like clogged pores and oily skin. It's an urban boutique spa that focuses on gentle facial extractions. These facial extractions will allow for a more flawless complexion after the facial. Their beauty technicians are known for being extremely professional, and they will ensure that your face leaves feeling light and well-nourished after.
Address: 56A, Cairnhill Road, Singapore, 229667
Website: https://mycozyroom.com.sg/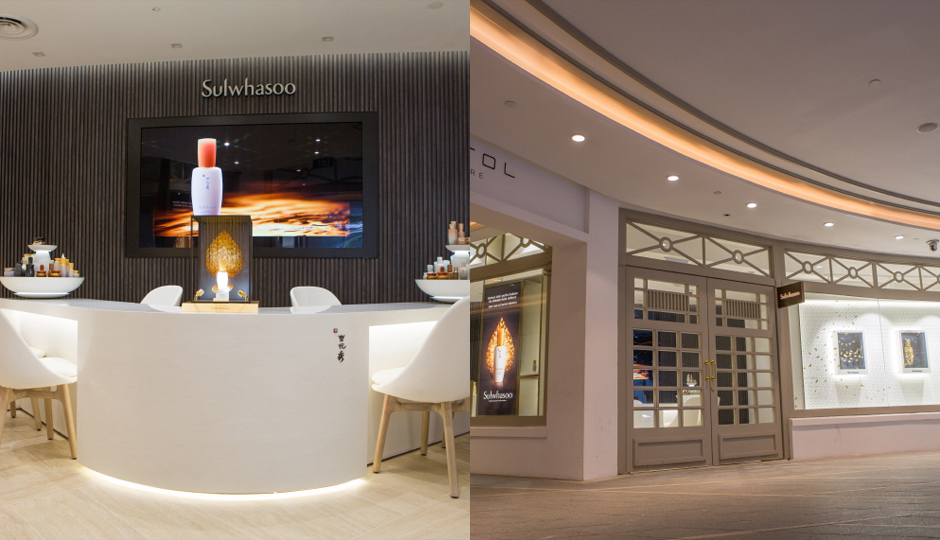 Credits: Sulwashoo
Hailing from Korea, anyone who loves their Korean drama will love stepping into this beauty and facial clinic to get their best faces on. Sulwhasoo is known to be a luxury Korean brand, and it has a sizeable facial menu. With this menu, we're sure you're bound to find something that you like.
It's also good to know that all treatments are naturally made and comprises of all-natural herbs like ginseng. Rest assured your face will be treated very carefully and you will leave the clinic feeling like a new person!

Address: #01-28 Westgate, 3 Gateway Dr, Singapore, 608532
Website: http://www.sulwhasoo.com/sg/en/
Credits: DailyVanity
Do you always avoid going for facials because you have sensitive skin? Well, what if we told you that there was a shop just for you with facials in Singapore made specifically for people with sensitive skin?
If you have skin that is oily, clogged up and just all around not doing very well but you've not done anything about it because your skin is sensitive, the Ultra Sensitive Skin Facial from SG Face should be your saving grace.
Designed specifically to soothe any irritation and redness, this facial is made to hydrate and improve your skin from just one facial. So, those with sensitive skin, head on over to SG Face and get yourself that nice facial and feel pampered at the end of the day. You deserve it!
Address: #03-42 211, Holland Avenue, Holland Road Shopping Centre, Singapore, 278967
Website: http://www.sgface.com.sg/facial
Credits: HerWorld
Always skipping out on facials because you never have the time? Well, it's time to toss all your excuses out the window because Sugar K Organic Peel Bar will whip you up within 20 minutes.
They use all-natural ingredients that were designed using glycolic acid, which is naturally derived from sugar cane. This peel will very gently exfoliate and cleanse your skin. It does so by removing all that extra dead skin cells. You will see a decrease in whiteheads and blackheads from forming, thus improving your overall skin texture while still ensuring it has a glow to it.
Address: #03-83, 6 Eu Tong Sen St, Singapore, 059817
Website: https://www.facebook.com/Sugar-K-Organic-Peel-Bar-241179466353462
There we go! We've curated the top 5 beauty and facial clinics we think you should visit the next time you're thinking about a facial. Your face is something you should invest in as ageing is something no one can run from.
Facials are an excellent way to relax and unwind while also taking care of your body. Do let us know what you think about these facials in Singapore and if you have your favourites!