Featured Image: The Floral Atelier
Finding a good florist in Singapore can be difficult because it's just a very personal experience.
There is a large amount of trust that one has to put in a florist to trust them to create that perfect bouquet for a special someone or an important event.
As trends come and go too, there is also a greater focus on unique and personalised bouquets, drinks, food and more.
So here's our list of the best florists in Singapore to visit for unique and bespoke bouquets that will really make any occasion extra special.

Photo Credit: The Floral Atelier
The Floral Atelier is a flower studio which specialises in bouquets for all occasions. Customers can order bloom boxes which are round boxes with beautifully arranged flowers in them or they can choose to get vases with flowers in them or arranged bouquets. The best part is that these are all quite customisable with the flower studio allowing you to pick the colour of the flowers you would like as well as the general theme you are going for. There are also various price ranges so you can totally pick something that suits your budget. If you're interested in learning more about flowers and flower arrangement, The Floral Atelier also holds workshops so that you can learn!
Address: Paragon, 290 Orchard Road, #03-K1, Singapore 238859
Tel: +65 8181 6822
Email: floral@the-atelier.co
Website: https://www.thefloralatelier.co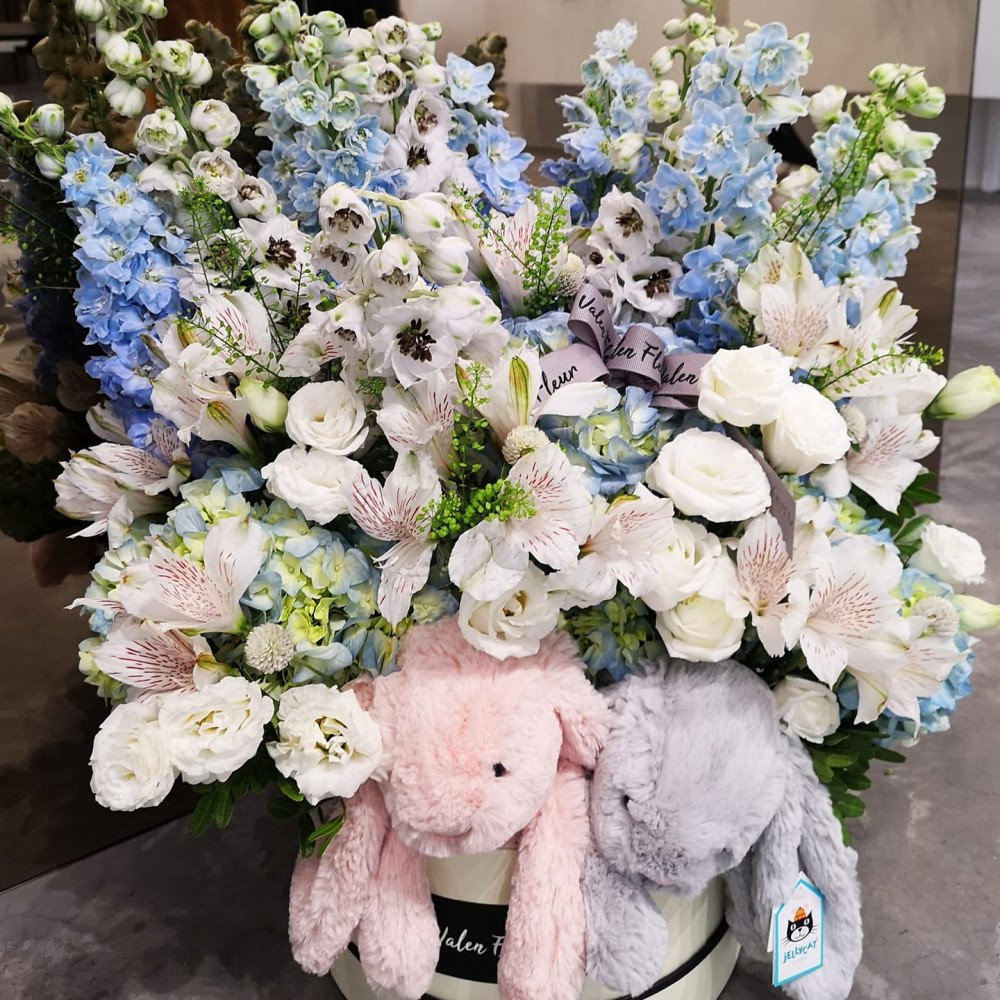 Photo Credit: Valen Fleur
If you choose to purchase a bouquet form Valen Fleur, you are guaranteed to get something truly special and unique. While the shop has pictures of the bouquets they sell on their site, they generally prefer to hear what their customers want and need and to do something special for them based on what they have specified. The end result is something that has given Valen Fleur a steady flock of repeat customers for the 22 years that he has been in business.
Address: Palais Renaissance, 390 Orchard Road, #02-11, Singapore 238871
Tel: +65 6738 7384
Email: sales@valenfleur.sg
Website: https://www.valenfleur.sg/

Photo Credit: The Bloom Room
The Bloom Room prides itself on putting a unique spin on everyday flowers. In fact, they describe themselves as selling "everyday flowers with a dash of quirk". The Bloom Room handpicks their flowers and does things such as bouquets in mugs, baskets, mason jars and other interesting items. Their arrangements can also be used for bouquets, table centrepieces, gift sets, flower stands and more. They also hold workshops and sell their vases and vessels so that you too can try your hand at flower arrangement.
Address: 1 Tampines North Drive 1, #01-19 T-Space, Singapore 528559 (By Appointment Only)
Email: flowers@bloomroom.sg
Website: https://www.bloomroom.sg/
Photo Credit: Urban Medow Flowers
Getting a bouquet that is beautiful can get really expensive at times and sometimes we just want a reasonably priced option to tell someone we care about them. For a beautiful but affordable bouquet, try Urban Meadow Flowers which does gorgeous bouquets for between S$35-95 including delivery charges. Their flowers are chosen to mimic a meadow sort of style and they are delivered in beautiful brown bags which are ascetically pleasing as well as easy to carry around.
Email: hello@urbanmeadow.com.sg
Website: https://www.urbanmeadowflowers.com.sg
Photo Credit: Dancing Petals
Dancing Petals is your one-stop for all types of flowers. They sell fresh flowers, dried flowers, preserved flowers and terrariums from as low as $35. Their designs are unique and affordable and will certainly delight you or your special someone. They are also big on doing things with a personal touch and are keen to hear from you especially when it comes to the wedding packages they do which can be customisable. Dancing Petals also holds workshops so if you're keen to learn how they do their hand-tied bouquets, this is the place to go.
Address: 228 Changi Rd, Icon@Changi #B1-13 Singapore 419741 (By Appointment Only)
Tel: +65 87429290
Email: hello@dancingpetals.sg
Website: https://www.dancingpetals.sg/
Photo Credit: Fleurapy
Inspired by administering 'flower therapy' through thoughtful floral creations, Fleurapy is a floral-art studio determined to bring your wildest flower imaginations to life. With a strong passion for customised floral pieces, Fleurapy prides itself in designing each piece from scratch according to your story and aesthetic preferences. Services include event and design styling, botanical installations, bespoke bouquets, and wedding items.
Address: 217 Henderson Road, Singapore 159555 (by appointment only).
Email: hello@fleurapy.com
Website: https://shop.fleurapy.com/
Photo Credit: The Floral Tease
Featuring bespoke floral arrangements, The Floral Tease aims to provide beautiful bouquets for their clients. Through their thoughtful selection of flowers for every client, The Floral Tease endeavours to bring joy into their lives.
Email: thefloraltease@gmail.com
Website: https://www.thefloraltease.com/
Photo Credit: Triceratops
Like its namesake, the floral creations from Triceratops veer towards the raw, rugged, and unexpected, Featuring bright, unique floral pieces, they think of their art as a process to bring joy. Triceratops works passionately to customise their creation to fit the recipient's personality
Address: 2 Kallang Avenue, #07-10 Singapore
Tel: +65 6444 7848
Email: ching@triceratops.com.sg
Website: http://www.triceratops.com.sg
Photo Credit: One Olive
As the first artisanal floral boutique in Tiong Bahru, One Olive brides itself in adopting contemporary techniques and modern styling of their floral pieces. Featuring vintage wares and mini potted plants, along with an array of decorative vases, One Olive seeks to express their love for nature through their creations.
Address: Blk 61 Seng Poh Lane #01-01, Singapore 160061
Tel: +65 6779 3543
Email: florals@oneolive.net
Website: http://www.oneolive.net
Photo Credit: Floral Magic
Fronted by a family of strong female figures, Floral Magic hones a fresh, moving, and organic aesthetic inspired by nature. Grounding their creations in the technical aspects of arrangement while balancing colour, form, and texture, Floral Magic endeavours to provide clients with unique, beautiful pieces for all occasions.
Address: 334 King George's Avenue, Singapore 208571
Tel: +65 6337 6398
Website: https://www.floralmagic.com.sg
Photo Credit: Sing See Soon
Since 1879, Sing See Soon has been one of the leading florists and landscaping experts in Singapore. Now fronted by its fifth generation, the family business has stayed true to its belief in the singular ingredient that nurtures all botanicals: love. Featuring floral pieces for all occasions, Sing See Soon endeavours to always seal their beautiful works with love.
Address: 32 Punggol E, Singapore 828824
Tel: +65 6285 2777
Website: http://singseesoon.com/
Photo Credit: Poppy Flora
Immerse yourself in the wonders of natures at Poppy Flora Studio. Artistic, purposeful and inspirational, Poppy Flora creates each piece to convey a story. With over 19 years of experience, Poppy Flora endeavours to exceed and redefine all expectations through their artistry.
Address: 9A Dempsey Road, Singapore 247698
Email: poppy@poppy.com.sg
Website: https://www.poppy.com.sg/
Priding themselves for quality horticulture and the provision of top quality plants, Far East Flora is Singapore's largest nursery offering a wide selection of flora and plant accessories. From its humble beginning in 1965, Far East Flora offers botanical wonders for all occasions.
Address: 555 Thomson Road, Singapore 298140 (Main Outlet)
Tel: +65 6254 6662
Website: https://www.fareastfloragarden.com/
Photo Credit: Ask a French
Having trained in Paris, floral designer Aude's goal is to create and style bespoke poetic flowers. Ask a French is inspired by the beautify of wild nature and classic still life paintings, and endeavours to create chic and unique pieces for all occasions. Aude also conduces floral and lifestyle workshops in her home studio.
Email: shop@askafrenchflowers.com
Tel: +65 8721 5167
Website: https://askafrenchflowers.com/
Photo Credit: Happy Bunch
Launched in 2017, Happy Bunch endeavours to offer affordable flower delivery services for everyone. Happy Bunch believes that it should be simple to put some happiness in someone's day. With fuss-free bouquets, Happy Bunch believes in letting the flowers and plants exude their natural beauty, without the distraction of embellishments.
Address: 201 Henderson Rd, #07-08 Apex @ Henderson, Singapore 159545
Email: hi@happybunch.com.sg
Website: https://www.happybunch.com.sg/