Great work, more often than not, is derived when someone starts with a blank slate. With new beginnings and many unwritten days ahead, spend it wisely at cafes that holds true to being a conducive work environment compared to their other bigger and more globalised counterparts.
Our top three picks on cafes to work at in Singapore, in no particular order, would be the Crossings Cafe, Tom N Toms Coffee, and Grids & Circles Coffee. What these cafes have in common would be an abundance of space and average traffic, making it relatively easier to quickly find a seat to start working compared to other cafes. Each cafe's ambience is also comfortable, and service standards based on reviews seem to be satisfactory or above average.
As a small bonus, our next two runner-ups (which are pretty close contenders for the top spots actually) are Twenty Eight Cafe and Dal.Komm Coffee (Paragon). Both share the same characteristics mentioned above; however, the downside of Twenty Eight Coffee would be its somewhat inconvenient location, whereas the downside of Dal.Komm Coffee (Paragon) would be its new no-working and no-laptop policy on Fridays and weekends.
Without further ado, enjoy this guide to cafes available in town that provide free wifi and power plugs to get your drive going for your future work ahead!
PS: We have updated this guide (as of March 2021) as several cafes have closed and included additional information where available on the number of power sockets, limited stay/wifi duration, and COVID precaution measures. If you have more information that would be useful to others reading this, please share it with us in the comments below!
Table of Contents: Cafes in Town with Free Wifi and Power Plugs
Last updated: 15 March 2021
Bugis
Twenty Grammes (Bugis / North Bridge Road)

Credit: Twenty Grammes
Twenty Grammes is a combination of a dessert cafe and ice cream parlour. Their wifi is stable and there's abundant power sockets available, although it might be slightly awkward to get to them. They serve quality ice cream and waffles that are infused with assorted unique flavours. Some of their must-try dishes include Charcoal Waffle with homemade Salted Egg Sauce, Rose Lychee Cake and TG Yogurt Parfait. Pick this cafe if you want to work while enjoying some sweet desserts.
Address: 753 North Bridge Road #01-01 Singapore 198721
Nearest MRT Station: Bugis
Contact: 6717 1733
Opening hours: Sun-Thurs: 12pm-10pm | Fri- Sat: 12pm-1am
Menu: Twenty Grammes Menu
Mellower Coffee (Bugis)

Credit: Phitchaya Trakulchokchai
A popular hangout place if you're at Bugis, Mellower Coffee has a spacious seating and working area on the first and second floors with several power sockets available. However, it can get quite crowded due to its popularity and central location, so it's good to prepare for some backup cafes nearby (see below!) just in case you can't get a seat. Do note that there is also a dining time of one hour (and a one-hour wifi limit) unless you purchase another item.
Address: 108 Middle Rd, #01-01 Bernhard Schulte House, Singapore 188967
Nearest MRT Station: Bugis
Contact: 6255 0820
Opening hours: 9.30am to 8.30pm daily
Menu: Mellower Coffee Menu
Brotherbird Coffeehouse (Bugis / Bali Lane)

Credit: Wan Yu Lee
Brotherbird Coffeehouse is a two-storey bakehouse-cafe most known for its range of artisanal croissants from the Blackforest Croissant to the Oolong Tea Croissant. It also boasts a lovely and clean space, albeit small with limited seats. This cafe will be a good pitstop if you wish to enjoy a relaxing afternoon tea break while doing light work and recharging your laptop and phone.
Address: 32 Bali Ln, Singapore 189868
Nearest MRT Station: Bugis
Contact: 9296 4997
Opening hours: Weds-Sun: 10am-6pm | Closed on Monday and Tuesday
Menu: NA
Working Title (Bugis / Arab Street)

Credit: Tay Min
City dwellers looking for a place to chill and relax can definitely spend a relaxing afternoon here at Working Title, known for its unique coffee and burger creations. This is definitely a place for our Muslim friends too, as it is one of the halal-certified cafes in Singapore. Some of their must-try creations would include Ribena Wings, Holy Guacamole Burger and Bandung Latte.
Address: 48 Arab Street Singapore 199745
Nearest MRT Station: Bugis
Contact: 8248 2841
Opening hours: Mon- Thurs: 11am- 10pm | Fri: 11am- 11pm | Sat- Sun: 10am- 11pm
Menu: Working Title Menu
Rochor
Lowercase (Rochor)

Credit: Justin John
Lowercase is a contemporary-inspired cafe situated in Lasalle that provides a pleasant space for you to spend the day working in. There's a good ambience with cosy sofa seating and high ceilings, although it may get crowded with students. With decent wifi and about four charging points located at the pillars, this laid-back and trendy cafe is a go-to place for remote working if you're around the area.
Address: 1st McNally Street #01-01 Block D LASALLE College of the Arts, Singapore 187940
Nearest MRT Station: Rochor
Contact: 6337 5581
Opening hours: Mon - Tues: 9am - 9pm | Weds - Fri: 9am - 10.30pm | Sat: 9am to 10.30pm | Sun: 9am - 6pm
Menu: Lowercase Cafe Menu
Twenty Eight Cafe (Rochor / Dhoby Ghaut)

Credit: Leslie Lau
Located close to Wilkie Edge Mall (between Rochor and Dhoby Ghaut), Twenty Eight Cafe is a great spot to hang out and get some work done as they are not only spacious but also have plenty of power sockets (so less fighting with visitors over them!). The cafe is also decently priced with a wide range of food and coffee to choose from, although the main draw still lies in its ample space and cosy ambience.
It is usually quiet during weekday afternoons and not as packed as the other cafes in town because of its location making it slightly more troublesome to get to. This cafe can be one of your top choices if you want to find a place to work in town, and don't mind the inconvenience of getting here.
Address: 28 Wilkie Rd, #01-06, Singapore 228051
Nearest MRT Station: Rochor / Dhoby Ghaut
Contact: 9628 2829
Opening hours: 7.30am to 5.30pm daily
Menu: Twenty Eight Cafe Menu
Bras Basah
Crossings Cafe (Bras Basah / Waterloo Street)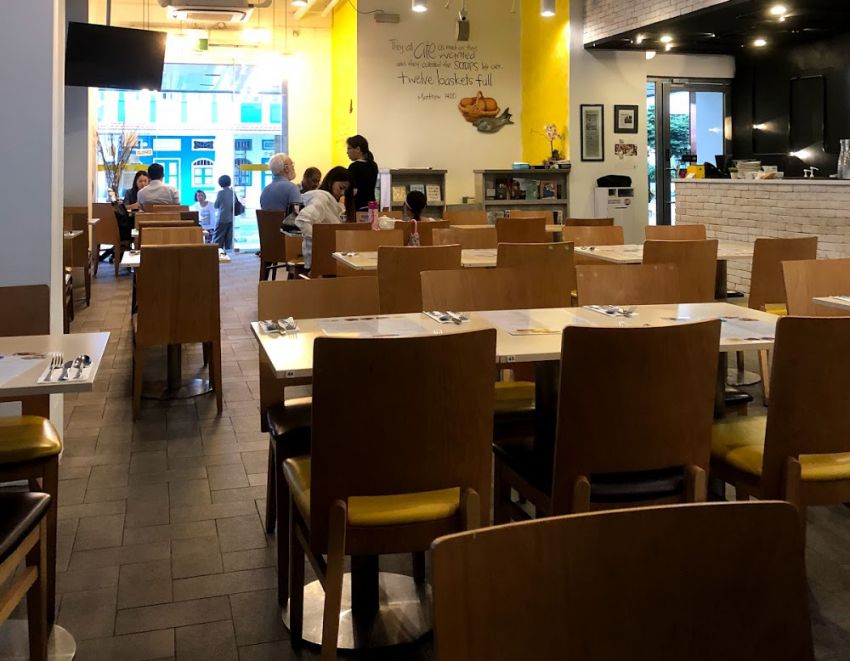 Credit: Stephen Hon
One of our top choices in places to work because of its quietness and cosiness, Crossings Cafe is a social enterprise that seeks to provide the disadvantaged with internship and learning opportunities. The cafe is usually empty (except Sunday and other days after church service ends) and has several power outlets with decent wifi. You can also enjoy a range of western-fusion main dishes for lunch or simply coffee, tea and cake during the afternoon.
Address: Catholic Centre 55 Waterloo Street Singapore 187954
Nearest MRT Station: Bras Basah
Contact: 6338 2669
Opening hours: Mon-Fri: 8am-10pm | Sat,Sun & PH: 10am-10pm
Orchard
Jewel Coffee (Orchard / Claymore Connect Mall)

Credit: Jewel Coffee
Since its inception in 2010, Jewel Coffee has been the caffeine fix hit list for coffee lovers who looks for coffee brewed with premium beans imported from around the world. A 10 to 15 minutes walk from Orchard MRT, this outlet at Claymore Connect Mall is pretty peaceful during the weekdays, perhaps because it's slightly on the outskirts of Orchard. If a cup of freshly brewed coffee at a quiet cafe is what you need to start your day, you can't go wrong by getting it here.
Address: #01-01, Claymore Connect Mall, 442 Orchard Road, 238879
Nearest MRT Station: Orchard
Contact: 6636 9452
Opening hours: 7am- 10pm Daily
Menu: Jewel Coffee Menu
Dal.Komm Coffee (Orchard / Paragon)

Credit: Lesley Kao
One of our favourite spots for remote working, the South Korean-born Dal.Komm Coffee at Paragon, Orchard, is a spacious cafe with decent coffee and delectable bingsu to whet your sweet tooth. There is free wifi and plenty of power plugs, and it can get quiet and cosy during weekday afternoons.
However, one major thing to note is their new policy and safe-distancing measure where no studying or use of laptops is allowed from Friday to Sunday (including public holidays and eve of public holidays). If not for this policy, Dal.Komm Coffee would definitely be one of our top three picks on the best cafes to work in.
Address: 76 Orchard Road #01-01/02, #01-03/04, #01-05/06, #01-102/103 The Centrepoint, 238843
Nearest MRT Station: Orchard
Contact: 9008 4886
Opening hours: 10am- 10pm Daily (Take note no use of laptops on Friday, Saturday, Sunday, Public Holidays and Eve of Public Holidays)
Menu: Dal.Komm Coffee Menu
Chinatown
Grids & Circles Cafe (Chinatown / South Bridge Road)

Credit: Fel
A few minutes walk from Chinatown MRT, Grids & Circles Coffee is a quaint minimalistic cafe with a pleasant ambience where you can enjoy a cosy work stopover on the second floor with some coffee and cake. A medium-sized cafe with spacious tables, wifi and power-plugs, you should be able to find space to work during the afternoons.
The ample natural lighting and light jazzy music in the background also help get you into a focused and productive mood. Do take note that you can only stay for two hours unless you spend a minimum of $20 for each individual too.
Address: 200 South Bridge Rd, Singapore 058749
Nearest MRT Station: Chinatown
Contact: 6935 3546
Opening hours: 9am to 5pm Daily
Menu: Grids Coffee Menu
The Moon Cafe (Chinatown / Mosque Street)

Credit: Maxkpchannel
Like the Book Cafe, the Moon Cafe is a bookshop-cafe with a very cosy and old-world charm space for you to wind-down and do some creative work. A short walk away from Chinatown MRT station and tucked away a row of quaint shophouses, this cafe is indeed a gem of a bookshop/cafe filled with good vibes. The first floor is similar to a cafe, while the second floor is an artsy and chill sofa seating area (pictured). Do take note the second floor is a no-shoe zone so wear ones that are easy to take off if you intend to head there.
Address: 37 Mosque St, Singapore 059515
Nearest MRT Station: Chinatown
Contact: NA
Opening hours: Mon - Thurs, 11am to 6pm | Fri - Sun, 9.30am to 8.30pm
Menu: The Moon Cafe Menu
Clarke Quay
Craftsmen Specialty Coffee (Clarke Quay)

Credit: Craftsmen Specialty Coffee
Conveniently located at Clarke Quay Central just above Clarke Quay MRT, you can have a productive work session while enjoying quality coffee sourced from single-source coffee beans from the best growers around the world at Craftsmen Specialty Coffee. However, the cafe is a little small with only two power sockets at one corner, so you would have to drop by at off-peak hours if you hope to get the right seats. There is also a one hour limit stay as part of the cafe's COVID precautions.
Address: 6 Eu Tong Sen St, 01-59, Singapore 059817
Nearest MRT Station: Clarke Quay
Contact: 6221 0515
Opening hours: 8am to 9pm Daily
Menu: Craftsmen Specialty Coffee Menu
The Book Cafe (Clarke Quay)
A visit to The Book Cafe ensures you a peaceful and comfortable place to be at. The name itself seems to set an unspoken rule for the cafe as it is almost impossible not to notice how conscious the customers are in keeping their noise level down. With a large operating space offering both alfresco and indoor dining option, there is room for everyone here, be it to spend the afternoon with friends over coffee and food or simply getting work checked off the task list.
Address: #01-02, Seng Kee Building, 20 Martin Road, 239070
Nearest MRT Station: Clarke Quay
Contact: 6887 5430
Opening hours: Mon- Fri: 8.30am - 10.30pm | Sat- Sun: 8.30am - 12.30am
Toby's Estate (Clarke Quay / Rodyk Street)

Credit: Huy Vo Tiet
A renowned coffee chain from Australia, Toby's Estate is highly raved by customers, proclaiming it to be one of the best coffee joints in town to get your caffeine fix. They serve in-house roasted coffee to ensure that only the best brew is delivered to every customer.
Address: 8 Rodyk Street, 01-03/04 Singapore 238216
Nearest MRT Station: Clarke Quay
Contact: 6636 7629
Opening hours: Sun-Thur: 7.30am- 6pm | Fri-Sat: 7.30am- 8pm
Menu: Toby Estate Menu
Promenade
Kith Cafe (Promenade / Millenia Walk)
Credit: Boon Lim
Located at Millenia Walk just above Promenade MRT station, Kith Cafe is ideal for work because of its central location and many amenities nearby. While the food is great, some downsides of working here would be its price and not-as-cosy ambience compared to some other cafes listed here. However, one plus point is that there are a few other cafes with wifi and power sockets nearby that can serve as backup alternatives.
Address: 9 Raffles Blvd, #01-44/45, Singapore 039596
Nearest MRT Station: Promenade
Contact: 6333 4438
Opening hours: 7.30am to 10pm daily
Menu: Kith Cafe Menu
Joe & Dough Cafe (Promenade / Millenia Walk)

Credit: The Red Marker SG
At the opposite end of Kith Cafe in Millenia Walk, Joe & Dough is a less spacious but still cosy place to hang out and do some work with wifi and about three power sockets. However, perhaps because of the limited space, some patrons have reviewed that the cafe may not be too work-friendly as they were asked to leave after an hour of work.
Address: 9 Raffles Boulevard, #01-86/87 Millenia Walk, 039596
Nearest MRT Station: Promenade
Contact: 6333 4438
Opening hours: Mon - Fri: 7.30am to 9pm | Sat - Sun: 10am to 9pm
Menu: Joe & Dough Menu
Tanjong Pagar
Tom N Toms Coffee (Tanjong Pagar)

Credit: Tom N Toms Coffee

Tom N Toms Coffee is a Korean coffee franchise that specialises in coffee and desserts. This is definitely the place for those looking to chill or hustle away under a relaxing and peaceful ambience. Some of their must-try dessert and beverage includes Milk Tea Bingsu, Green Tea Latte and Long Black. Previously open 24 hours, the cafe has since changed its opening hours to be from 7am to 12am.
Address: 12 Gopeng Street, Icon Village #01-12, S078877
Nearest MRT Station: Tanjong Pagar
Contact: Nil
Opening hours: 7am to 12am
Menu: Tom N Toms Menu
Holland Village
D'Good Cafe (Holland Village)

Credit: ODOCO Agency Singapore
This is the place if you are looking to chill over coffee with friends or looking for a working space immersed in a peaceful and relaxed environment. They serve really good coffee and pastries, especially their in-house special Maple Sea Salt Cheesecake and Skillet, which comes in assorted flavour.
Address: 273 Holland Avenue #02-01/02 Singapore 278992
Nearest MRT Station: Holland Village
Contact: 6219 9807
Opening hours: 10am- 10pm Daily
Menu: D'Good Cafe Menu
Lavender
The Refinery (Lavender)

Credit: The Refinery
The Refinery is a mix of cafe, bar, and restaurant consisting of part casual dining restaurant, part mixology bar, and part designer workspace. While it's lovely to get some work done here with the modern vibe and high ceilings, prices are on the steeper side than your regular coffee at a cafe. On the other hand, if you have the budget to spare, you'll be sure to enjoy creative dishes crafted by their team of young chefs that will stimulate your senses.
Address: 115 King George's Avenue #01-02, 208561
Nearest MRT Station: Farrer Park / Lavender
Contact: 6293 1204
Opening hours: Tue - Sat: 11am-3pm, 5pm-10.30pm | Sun: 11am- 5pm
Menu: The Refinery Menu
Tiong Bahru
Plain Vanilla Bakery (Tiong Bahru / Yong Siak St)

Credit: Hiroaki Takayanagi
A chill and popular place to unwind nestled in a quiet Tiong Bahru neighbourhood, Plain Vanilla Bakery is a lovely cafe with a great ambience. The only downside is that the cafe is rather popular and it may be hard to find a good spot in the Workroom (pictured above) unless you come early in the morning. There's free wifi and several power sockets available as well. If you manage to get a seat, go ahead and try out the signature cupcakes and pastries that they are known for.
Address: 1D Yong Siak St, Singapore 168641
Nearest MRT Station: Tiong Bahru
Contact: 8363 7614
Opening hours: 8am to 7pm daily
Menu: Plain Vanilla Bakery Menu