Future logs are an essential bullet journal spread to keep your upcoming events in one place for ease of reference so you won't forget them. Important occasions such as birthdays, anniversaries, holidays, trips and meetings would be recorded in the future log, and you can simply refer to one place to check for a specific event easily should you need to.
The Future Log will be at the front of your bullet journal and is usually separated into sections based on months. Check out our Beginner's Guide to Bullet Journaling here if you want to learn more about about the different sections in a bullet journal and how you can set one up.
There are many different styles and variations that you can adopt, from minimalistic future logs to more creative and colourful ones. Depending on the number of events you plan to keep track of, you could have a mini-calendar or simply plain sections and columns (or rows) if you need the extra space.
For some bullet journal future log hacks, you can design your future log spreads based on the frequency of events you want to keep track of to keep your bullet journal decluttered. If you frequently have many events that you want to keep track of, you might want to set aside 1 to 3 months for each page. On the other hand, if you have fewer things to keep track of, you can afford the space for future log spreads that have more months on them.
For mundane events like your doctors' appointments or work meetings, we recommend that you use a digital tool instead. It's best to use your bullet journal's future log to keep track of things that are more important and closer to heart to you.
Another simple hack for your future log is to use calendar stickers that you can get for cheap on Etsy. This can help you save time on drawing out the calendars while keeping your spreads looking good. It's a great way to spice up your bullet journal design with little to no effort or if you're short on time.
Here's a curated selection of Future Logs to inspire you for your bullet journal:
Future Logs displaying all 12 months
Use these layouts if you want to quickly reference major future events throughout the year on one page.

@teanbujo

@missbujobunny
Future logs with 3 to 6 months on one side:
Use these layouts if you have more events and need the extra space to log them down

@inprint.xyz

@bulletjournaltina
Minimalistic Future Log:
Keep things clean and simple with the emphasis solely on upcoming events

@reflectwithraksha

@bujowithnato
Minimalistic Future Log with Mini-Calendars:
Or you can make future logging convenient, sleek, and simple at the same time with mini-calendars

@withkx

@happiness_mood
With Creative Layouts
If you fancy something a little different and more ingenious than conventional future log layouts

@thestationaryslut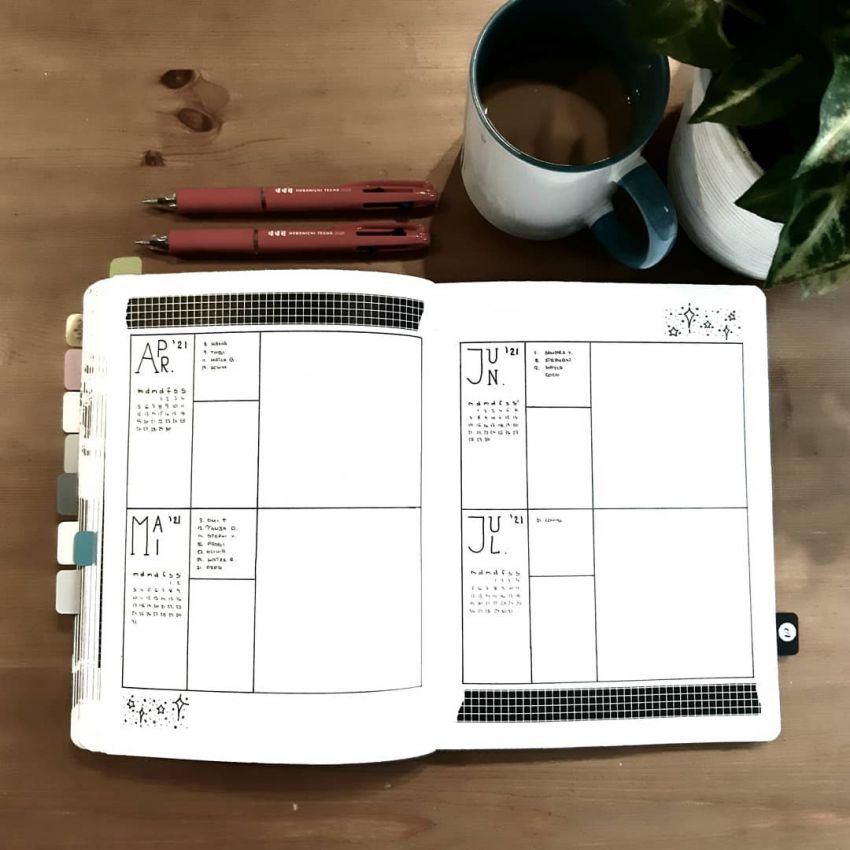 @kreativmiene

@bujoanxx