Culture and art in Singapore are perhaps some of the nation's best-kept secrets; there is so much diversity in what's in store. Besides the standard museums, there are also many heritage centres and independent art galleries that offer a sneak peek into the heart of Singapore's fascinating culture.
Here's a list of the best museums and galleries in Singapore to check out:
credit: Meng Chatchai/shutterstock.com
Housing over 8,000 modern Southeast Asian artworks, from sculptures to sound installations to paintings, the National Gallery has one of the world's largest public collections. Tucked in the heart of the Civic District, the National Gallery occupies the City Hall and the former Supreme Court, two of the most iconic buildings in Singaporean history featuring exquisite architecture. Children can also visit Gallery Kids, an interactive space that they can use to learn about art through play.
Address: 1 St Andrew's Road, Singapore 178957
Hours: Sat-Thu 10am-7pm, Fri 10am-9pm
Tel: 6271 7000
credit: saiko3p/shutterstock.com
As Singapore's oldest museum, the National Museum of Singapore started in 1849 as a section of the library at Singapore Institution. It is home to the many national artefacts in Singapore, including the Singapore Stone and a traditional puppet stage.
Address: 93 Stamford Road, Singapore 178897
Hours: Daily 10am-7pm
Tel: 6332 3659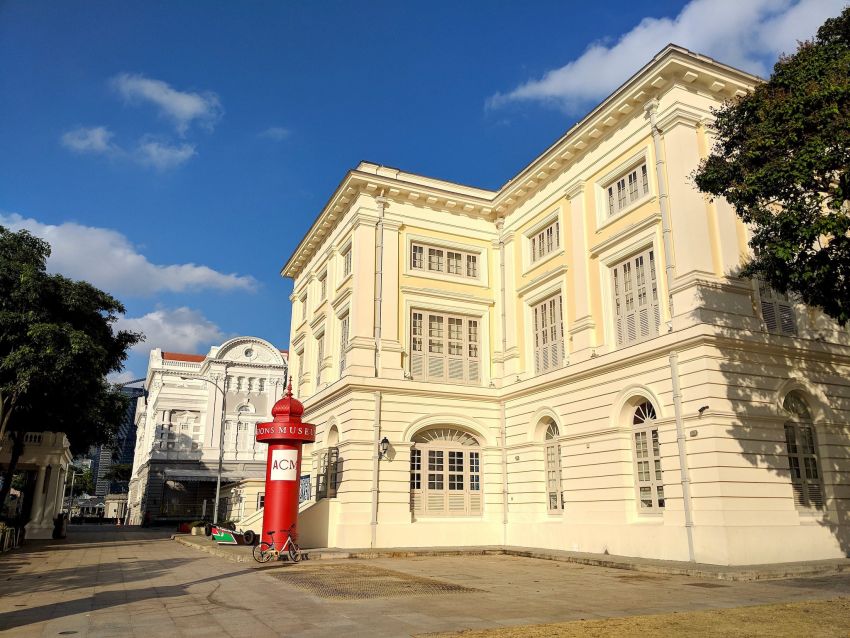 credit: Cliffano/flickr.com
Featuring a vast collection of intricate Pan-Asian artworks, including brass figures, exquisite porcelain pieces, paintings, and traditional ritual objects. Comprising galleries that feature more than 1,300 artefacts from Chian, Southeast Asia, South Asia, and West Asia, the Asian Civilisations Museum also holds lectures to offer deeper insights into their collections.
Address: 1 Empress Place, Singapore 179555
Hours: Sat-Thu 10am-7pm, Fri 10am-9pm
Tel: 6332 7798
credit: Jnzl/flickr.com
The first of its kind in the world, the Peranakan Museum explores Peranakan cultures in Singapore and other former Straits Settlements in Malacca, Penang, and other communities in Southeast Asia. Fusing Chinese and Southeast Asian influences, the Peranakan culture is best known for it unique and interesting characteristics. The Peranakan Museum also houses the world's best collection of Nonya porcelain, featuring bright colours and intricate motifs.
Address: 39 Armenian Street, Singapore 179941
Hours: Sat-Thu 10am-7pm, Fri 10am-9pm
Tel: 6332 7591
credit: Lena Serditova/shutterstock.com
Featuring a series of touring world-class exhibitions, the ArtScience Museum frequently collaborates with organisations like the American Museum of Natural History, the Smithsonian Institute, and furniture designer Herman Miller. With its iconic architecture, the tip of each "finger" of the museum's hand-like structure filters in natural light that gives a beautiful glow to the building.
Address: 6 Bayfront Avenue, Singapore 018974
Hours: Daily 10am-7pm
Tel: 6688 8888
credit: Choo Yut Shing/shutterstock.com
Specialising in small exhibitions, mostly 20th-century Asian visual art, the Singapore Art Museum is housed in a former Catholic boys' school that displays the charm of old colonial buildings in Singapore.
Address: 8 Queen Street, Singapore 189555
Hours: Daily 10am-7pm
Tel: 6589 9590
credit: Red Dot Design Museum Singapore
A boutique along the Waterfront Promenade, the Red Dot Design Museum features over 200 design works specially curated to demonstrate the advancements in design and technology. Comprising innovative products, research concepts, communication works, and art, the Red Dot Design Museum showcases the possibilities of stellar contemporary design.
Address: 11 Marina Boulevard, Singapore 018940
Hours: Daily 10am-8pm
Tel: 6514 0111
credit: Choo Yut Shing/flickr.com
Inspired by the step wells of South Asia, the Indian Heritage Centre's architecture features beautiful glass panels. It is home to a wealth of artefacts that are spread across five galleries, exploring the history and culture of Indians, especially in relation to Singapore.
Address: 5 Campbell Lane, Singapore 209924
Hours: 10am-7pm, closed on Mondays.
Tel: 6291 1601
credit: Choo Yut Shing/flickr.com
Opened in 2005, the Malay Heritage Centre provided a great cultural exposure and learning opportunities for all visitors. Situated in the heart of Istana Kampong Gelam, the Centre is a key heritage institution for the Malay community in Singapore. Discover artefacts and stories from Singapore's national collection, or embark on their Kampong Gelam Heritage Trail to discover the various sites of the Malay community in the vicinity.
Address: 85 Sultan Gate, Singapore 198501
Hours: 10am-6pm, closed on Mondays.
Tel: 6391 0450
The Eurasians are one of Singapore's smallest, but also one of its earliest communities. Known for their blend of Eastern and Western cultures, their Asian and European roots can be traced to some of Southeast Asia's oldest colonial settlements, such as Malacca, Penang, Goa, Macau, and Sri Lanka. Browse through the archives that offer a sneak peek into the te history of Eurasians in Singapore.
Address: 139 Ceylon Road, Singapore 429744
Hours: 9am-6pm, closed on Mondays.
Tel: 6447 1578
Once the oldest Chinese temple in Singapore, Fuk Tak Chi is a beautiful example of restored architecture in Chinatown that showcases traditional styles of Singapore's history. The temple was originally a shrine dedicated to the Chinese deity Tua Pek Kong, set up between 1820 and 1824 by Cantonese and Hakka immigrants in gratitude for their safe journey to Singapore.
Address: 76 Telok Ayer Street, Singapore 048464
Hours: Daily 10am-10pm
Tel: 6580 2888
credit: Wikimedia Commons
Take an hour-long tour into one of the most vital places of Singapore's history, where the decision was made in 1942 for the surrender of Singapore to the Japanese Empire. Explore the command centre and surrounding bunker, look at how military operations used to take place, and discover the role this crucial facility played during the Second World War.
Address: 2 Cox Terrace, Singapore 179622
Hours: Daily 9.30am-5.30pm
Tel: 6338 6133
As a national monument of Singapore, the Former Ford Factory houses an exhibition gallery and archive featuring World War II records and artefacts. Building on the legacy of the Japanese occupation, the exhibition highlights the diverse experiences of people in Singapore during this crucial period in history.
Address: 351 Upper Bukit Timah Road, Singapore 588192
Hours: 9am-5.30pm, closed on Mondays
Tel: 6462 6724
Housing over 8,000 Asian artefacts and artworks across four collections, the NUS Museum comprises materials from ancient to contemporary art, featuring classical sculptures, pottery, paintings, and more from a huge spread of cultures. The NUS Museum collection provides a comprehensive archive for teaching and research, with a focus on Asian regional art and culture.
Address: 50 Kent Ridge Crescent, Singapore 119279
Hours: 10am-6pm, closed on Mondays.
Tel: 6516 8817
credit: Choo Yut Shing/flickr.com
The Vintage Camera's Museum in Singapore is the country's only one dedicated entirely to antique cameras. With over 1000 vintage cameras, this museum is the first in Singapore to dedicate itself to this iconic instrument. From vintage spy cameras to retro photographs, the extensive collection is truly a testament to the untold story of cameras.
Address: 8C-8D Jalan Kledek, Singapore 199263
Hours: Daily 10.30am-9.30pm
Tel: 6291 2278
credit: Shaun Wong/flickr.com
Considered the largest of its kind in the region, this private museum is home to over 50,000 pieces of vintage toys sourced from over 40 countries. With some pieces dating back to the 19th century, this five-story museum is a wonderland of unique, one-of-a-kind finds.
Address: 26 Seah Street, Singapore 188382
Hours: Daily 9.30am-6.30pm
Tel: 6339 0660
Showcasing various styles, costumes, and props used in the different types of Chinese opera in Singapore, this museum offers an in-depth look at one of the region's more iconic traditional performance arts. Take a look at the history of Chinese operas in Singapore since the time of its inception when the South Chinese first settled in Singapore almost 200 years ago.
Address: 100 Jalan Sultan, Singapore 199001
Hours: Tue-Fri 11am-6pm
Tel: 6292 3393
credit: Tapanuth/shutterstock.com
Housed in Singapore's oldest fire station, the amazing red-and-white colonial building is a fantastic piece of architecture reminiscent of 19th-century colonial Singapore. Complete with historic fire engines and interactive stations, the gallery also features a hose tower, which was Singapore's highest viewpoint in the 1920s.
Address: 62 Hill Street, Singapore 179367
Hours: 10am-5pm, closed on Mondays
Tel: 6332 2996
Well-loved the world over, Madame Tussauds is an institution housing lifelike wax statues of your favourite celebrities, including local stars Jack Neo and Gurmit Singh. Complete with 8 fully interactive zones, it's no wonder Madame Tussauds is crowned the world's most famous wax attraction. Another spectacular feature is the indoor boat ride, unique to Singapore's branch.
Address: 40 Imbiah Road, Singapore 099700
Hours: Mon-Fri 10am-7.30pm, Sat-Sun 10am-9pm
Tel: 6715 4000
credit: Choo Yut Shing/flickr.com
Originally from South Korea, the Trick Eye Museum houses six themed zones featuring three-dimensional paintings and optical illusions that make amazing photo ops. These fully interactive display exhibits create a magical wonderland of surreal displays and artworks that truly boggle the mind.
Address: Resorts World Sentosa, 26 Sentosa Gateway #01-43/44, Singapore 098138
Hours: Daily 10am-9pm
Tel: 6795 2371
Set in a former British military camp dating back to 1936, Gillman Barracks is a visual arts cluster launched in 2012, with an aim to be Asia's destination for the presentation and discussion of international and Southeast Asian art. Fostering cultural exchange and creation, the galleries, education, and outreach efforts have established this place as an important centre for contemporary arts in Singapore.
Address: 9 Lock Road Singapore 108937
Hours: Tue-Thu, Sat 12pm-7pm, Fri 11am-9.15pm, Sun 11am-6pm
Spreading across seven acres, Goodman Arts Centre houses 37 arts and creatives groups catering to visitors of all ages. Its bright and colourful buildings, complete with outdoor sculptures and installations, brings artists, enthusiasts, and neighbouring communities together to experience the arts in Singapore in a warm and intimate environment.
Address: 90 Goodman Road Singapore 439053
Hours: Mon-Fri 9am-6.30pm
Tel: 6342 5790
credit: Choo Yut Shing/flickr.com
Housing the largest Asian collection of Italian art, as well as a huge range of contemporary art from across Europe and Asia. This private gallery space also hosts exclusive exhibitions, solo shows, guided gallery tours, and pieces from the extensive collection of the Parkview Group, as part of the brand's dedication to continue its legacy of art.
Address: 600 North Bridge Road, Level 3 Parkview Square, Singapore 188778
Hours: Mon-Sat 12pm-7pm
Tel: 6799 6971
With the aim to support and nurture photographers of all levels in Singapore and beyond, DECK is an independent communal art space that teaches you more about photography and its many techniques and processes. Here, you will find a library, gallery, activity studio, artist's studio, dark rooms, and a cafe within the 19 repurposed shipping containers.
Address: 120A Prinsep Street, Singapore 187937
Hours: 12pm-7pm, closed on Mondays.
Tel: 6734 6578
Established worldwide with galleries all across the globe, Opera Gallery is a Modern and contemporary art gallery featuring work by artists of the 20th and 21st century. Situated at the heart of Orchard Road, this gallery strives to offer visitors unique access to a great diversity of art through their series of curated exhibition and high profile art fairs.
Address: 2 Orchard Turn, # 02-16 ION Orchard, Singapore 238801
Hours: Mon-Fri 11am-8pm, Sat and Sun 10am - 8pm
Tel: 6735 2618
The Gajah Gallery was established in 1995 to proote Southeast Asian contemporary art with an emphasis on Indonesian Contemporary works. Offering regular exhibition tours and dialogue sessions with its local and regional curators, Gajah Gallery is a great space to learn about contemporary art in Southeast Asia.
Address: 39 Keppel Road, Tanjong Pagar Distripark, #03-04, Singapore 089065
Hours: Mon-Fri 11am-7pm, Sat and Sun 12pm-6pm
Tel: 6737 4202
A museum on the history of the postal system in Singapore, the Singapore Philatelic Museum boasts a massive archive of post stamps and other materials from the 1830s to present day, as well as stamps from member countries of the Universal Postal Union. Exploring different facets of science, history, and culture, the permanent galleries introduces visitors to the fascinating world of philately.
Address: 23B Coleman Street, Singapore 179807
Hours: Daily 10am-7pm
Tel: 6337 3888