In 1995, Hillary Clinton spoke strongly about women's rights in Beijing. In 2014, Emma Watson was appointed as UN Women Goodwill Ambassador.
The topic of empowering women has been around for centuries, spanning a wide number issues including healthcare, education, financial literacy and in more recent years, women in senior leadership positions.
In 2016, I chanced upon an event called Future Women Leaders Forum, where I was then fortunate enough to be recruited into Young Women's Leadership Connection (YWLC) based in Singapore. As part of my journey, I organised the annual International Women's Day full-day event with a bunch of brilliant ladies in 2017 and in 2018 (yes, twice!). On top of that, I have decided to explore topics that other groups were discussing this March.
I participated in multiple events this year and here are my key takeaways from my five favourite events:
#1 #PressForProgress in Energy: An International Perspective organized by Women In Energy Asia (WIEA)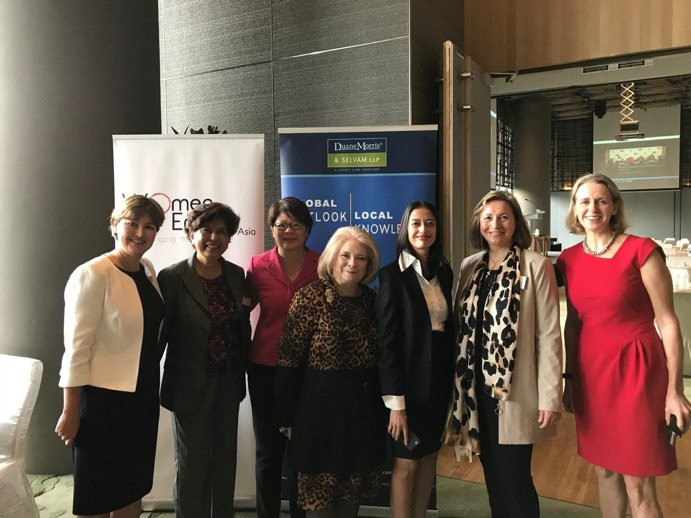 Credits: Women in Energy Asia
The key highlight of this event was an extremely thought-provoking panel discussion with highly distinguished panelists, namely:
Ms Emma Cochrane: Vice President, LNG, ExxonMobil Gas & Power Marketing
Ms Goh Swee Chen: Chairman, Shell Companies in Singapore & Vice President, City Solutions – New Energies
Ms Sheila Hollis: Partner and Chair, Duane Morris LLP, Washington DC Office
The panel discussion lasted around an hour, with the panelists sharing their favourite quotes and ended with a Q&A session.
Ms Emma spoke about "Be yourself – everyone else is already taken", as famously quoted by Oscar Wilde. She advocates leveraging on our differences, be it as women or as an individual to achieve what we aim for. Mentors and sponsors are critical for connecting us to others and it is essential for men to be a part of the picture – "we need to have more men to sponsor and mentor for more women to rise to senior levels". It might be worthy to focus on raising male awareness of the issue via innovative methods (hit me up if you'd like to discuss!) but we truly do need the men to willingly listen.
Ms Swee Chen cited T.S. Eliot in discussing the theme that "only those who will risk going too far can possibly find out how far one can go". She believes in one-third luck, one-third hard work and one-third smarts. She took up an opportunity to work in Japan and experienced one of the worst earthquakes, teaching her to live each day as her last. This argument also reminds me of the statistically proven fact that women tend to be more risk adverse (covered below in Financial Planning), and it will take a lot more effort but we must try to take calculated risks.
"Only those who will risk going too far can possibly find out how far one can go." – T.S. Eloit,
chosen by Ms Goh Swee Chen
Ms Shiela expounded about the need "to have courage for whatever comes in life - everything lies in that, and sheer dumb luck!" (I'm seeing a trend here!). Ms Sheila believed that luck played a large role in her young and vibrant career, but more importantly, she had the courage to say "yes!".
In her words, "If you see a door in front of you, don't let it stop you; you need to open the door. There're going to be risks but if you don't do it, you're never going to get anywhere."
I'll definitely be joining the upcoming WIEA events!
#2 She is Global organized by Singapore Chinese Chamber of Commerce & Industry (SCCCI) Career Women's Group (CWG)
This was probably the most talked about event in town– it even got featured on the news!
The event started with Marketplace by CRIB, a social enterprise that aims to empower women to become successful entrepreneurs in Singapore. Guests were given two hours to explore the marketplace (pop-up stalls) before the arrival of the Guest of Honour Mrs Josephine Teo, Minister for Prime Minister's Office and Second Minister for Manpower and Home Affairs. A special appearance by international celebrity Tan Sri Dato' Seri Michelle Yeoh stole the limelight as she shared about her journey on how she became "the first Asian Captain" and that she "will not go away quietly" when talking about her character's death in Star Trek episode 2.
"Be happy inside. Don't wait for someone to make you happy." – Tan Sri Dato' Seri Michelle Yeoh
There were 2 keynote speakers – Ms Goh Swee Chen (Chairperson and Vice-President for Commercial Fuels and Lubricants, Asia Pacific of Shell Singapore) and Mrs Shinta Widjaja (Chief Executive Officer, Sintesa Group) who covered different topics. A panel discussion was then conducted with following speakers:
Ms Denise Peng:

Serial Entrepreneur, former COO of Qunar.com and Venture Partner of GGV Capital

Ms Jacqueline Poh:

Chief Executive Officer, GovTech Singapore

Ms Ruby Teo:

Founder and Chief Executive Officer, Stalford Education Holdings

Ms Tan Hooi Ling:

Co-founder, Grab
Many ideas and thoughts were exchanged throughout the night and one piece of advice that struck me was from Ms Swee Chen. She spoke about "Shaping the way forward in the global economy – the next 20 years" and the best advice she has ever received was "If you do something, use your voice to share it." That's the only way ideas and movements are spread. It served as such a great reminder that many of us do great things, but not all of us have the courage to share it. Let's empower one another to have a voice!
"When you just keep trying again and again, you're bound to get it one day." – Ms Ruby Teo
Ms Jacqueline pointed out that networking is a key ingredient in the corporate world, and something that women lack. I've heard this from others as well – women tend to speak about their families and friends more, while men tend to go straight into the business. This is definitely something we should keep in mind at the next networking event! Ms Claire Chiang (Co-founder, Banyan Tree Holdings) was an excellent moderator throughout the event, by the way!
#3 Wonder Women & Wine organized by General Assembly (GA) & CRIB
Credits: CRIB
It was amazing to see such a diverse group of panelists and participants at this event.
Panelists were:
Ms Aude de Rotalier, Director, Singapore Women's Network
Ms Christine Amour-Levar, Founding Partner, Women on a Mission
Dr. Elaine Kim, Co-founder and CEO, CRIB
Ms Stephanie Dickson, Founder, Green Is The New Black
The panel discussion was moderated by Ms Aziza Sheerin, Regional Director, Singapore, General Assembly. (These women are amazing – please look them up!)
"We rise by lifting others." – Ms Christine Amour-Levar
The ladies echoed a similar piece of advice for women looking to grow their resilience and careers – to do things outside of your comfort zone but at the same time, surround yourself with good people who encourage and support you.
Indeed, the idea of a support system has long been talked about and it is truly essential to have a team of people (be it family or colleagues or friends) to stand behind you. Ms Aude further emphasised the need to trust yourself and network continuously. Women do tend to be less self-confident and I feel that we must take an active step in trying to say "yes!" without being 100% ready (who really is..?).
My favourite quote of the event would be Ms Stephanie's "clarity comes from engagement, not thought". It was a pivotal moment for Ms Stephanie, when she was weighing the option of leaving her job or pursuing her dream of becoming a fashion designer. She discourages overthinking and advocates moving forward by using intuition, definitely great advice for an overthinker like myself - there have been many days I chose to write and pen my thoughts for close to an hour yet I've never managed to attain clarity by doing that.
#4 Financial Planning for Women organized by Women's Professional Network
This was a lunch hour talk by Ms Shantini Ramachandra, Deloitte Private (Tax) Leader for Southeast Asia. Having majored in Finance and Economics, I thought I'd know everything from this talk but I was definitely wrong. Turns out, what you learn in college about derivatives and macroeconomics aren't that relevant when planning your own finances.
It was shocking to learn that gender pay gap starts from such a young age, even in the teenage years! World Health Organisation (WHO) found that women live 6 years longer than men, and spend 3 more years in poor health! Yet, men's retirement account balances are 50% higher than women. This is a pressing issue that both genders need to understand.
In addition, according to the Minister of Social and Family Development, women spend on average eleven years out of the workforce raising children. If they spend three or more years out of the workforce, their salary would reduce by 37%.
"Start saving early and often. Saving early is like using sunscreen… By the time you're 45, you can tell who used sunscreen and who didn't." – Manisha Thakor, Director, Wealth Strategies for Women Buckingham Strategic Wealth
In summary, first visualise your financial aspirations, calculate your current net worth and create your budget. This gives you a good understanding of where you are today. Then, create or improve your saving plans and if necessary, find a financial advisor to help get you started. Eventually, start reading about investing early and regularly!
#5 Face Forward organized by Young Women's Leadership Connection
A hundred ladies took six hours off their Saturday to come down for YWLC's IWD event held at Expedia Asia HQ. One of the longest events this week but it was definitely well worth it!
The event started with keynote speaker Ms Shyn Yee Ho-Strangas, Global Growth & China Lead of Expedia. I personally found her speech truly insightful, and realized that personal branding can only be deliberate to a certain extent. She urged all to think of the story we would like to tell about ourselves, a great method to formulate personal branding strategies.
Two workshops were then conducted – Building Your Brand Through Etiquette by Ms Teo Ser Lee, Consultant of Protocol Academy Pte Ltd and Networking & Online Personal Branding by Mr Jonathan Kwan, Managing Director of Kwantum Leap Group. If not thought clearly, one might find that these workshops contradict each other. However, they do complement. Ms Teo spoke about the importance of first impressions – "perception is reality" while Mr Kwan spoke about the fundamentals of networking – sincerity. Piecing them together allows me to re-evaluate the importance of both the first impression we give to strangers and the right reason we should truly network. I personally find the latter easier given my curious self, so it's great to have the first idea in mind.
Credits: Young Women's Leadership Connection
We then had a fantastic panel of beautiful ladies who shared with us some personal stories and insights regarding personal branding.
Ms Belle Baldoza, Head of Consumer Communications (APAC), UBER
Ms Jaelle Ang, Co-Founder & CEO, The Great Room
Ms So-Young Kang, Catalyst & Founder, Awaken Group
Ms Wu Jiezhen, Executive Director, The Hidden Good
It was such a great discussion because all these ladies were so willing to share the truth and the struggles they faced with us. For instance, Ms So-Young shared a story of doing a TEDx talk where she showed her humanity and vulnerability. While there were supportive people in the audience, others found it uncomfortable. Would you take the risk?
"You don't walk elegantly from step to step as you grow. It doesn't happen like that, ladies! Transformation requires breaking and unlearning to leap forward."
– Ms So-Young Kang
When asked about tips on online branding, Ms Jiezhen spoke about how social media has evolved to allow us to showcase multiple things. She uses Instagram to showcase snippets of her life and strongly believes in sharing even on the bad days, as it serves as a reminder that "we are all human and there are days we don't necessarily feel great - and people need to know that it's okay not to be okay." However, Ms So-Young cautioned that social media (particularly photographs) do not have context. For those who are working on aligning and managing personal branding, it might be a good idea to look through photographs you've been tagged in and take them down if it portrays an impression you do not wish to have.
A great question was asked from the floor, "How do you turnaround a negative impression?" Reciting Maltz's story that "it takes 21 days to form a new habit", Ms Jaelle spoke about how it's impossible for life to be smooth sailing unless we choose to avoid challenges. She encourages all to identify a skill you'd like to improve, get a coach or a mentor, and keep working on it.
Lastly, to address the question, "How do you handle behavior that is not constructive?", Ms Belle believes in finding a good opportunity to give the person direct feedback. While difficult, it is essential to change the dynamics of the relationship. For people who are not confrontational, don't think of it that way – think of it as a way to learn together!
The event ended with a speech by the Guest of Honour, Minister Grace Fu, Minister for Culture, Community & Youth, Chairperson of YWLC Council of Advisors. "People who really leave indelible impression in you are really those with a mission in life, the truly impactful things that change our society."
International Women's Day (or week, rather) was clearly eventful for me! There are many more events I didn't manage to attend so feel free to reach out and share with me your learnings! Till next year!