Forget Kallang Wave; we're all about the Hallyu Wave now.
With the ubiquity of people viewing K-dramas (seriously, look around the train during peak hours!) and the extensive K-pop influences in our everyday lives, many of us in Singapore go above and beyond to parallel the Korean lifestyle – from the foods that we consume to the fashion styles adopted. Be it during the heyday of SNSD (Girls' Generation) or the current craze over Blackpink, the K-wave has hit us hard. Like, damn hard.
In particular, K-beauty is one domain that many Singaporean females, from housewives to working adults to teens, all share a common love for. K-beauty brands such as Etude House, Innisfree and Laneige are among one of the best-selling brands in the local landscape, and the reason is pretty straightforward – the Koreans know what the East Asians want.
They are aware of our skin types, our troubles and our desire to achieve the glass skin look featured across many gorgeous Korean celebrities. I'm pretty sure everyone wanted to know the secret to Song Hye-Kyo's flawless and glowy skin following the debut of Descendants of the Sun.
We know how much you love your K-beauty, so STYLEGUIDE has gathered 7 aesthetic clinics that you can visit in Singapore. We have also thrown in some additional perks provided in these aesthetic clinics that we absolutely love!
Table of Contents: Top 7 Korean-Based Aesthetic Clinics In Singapore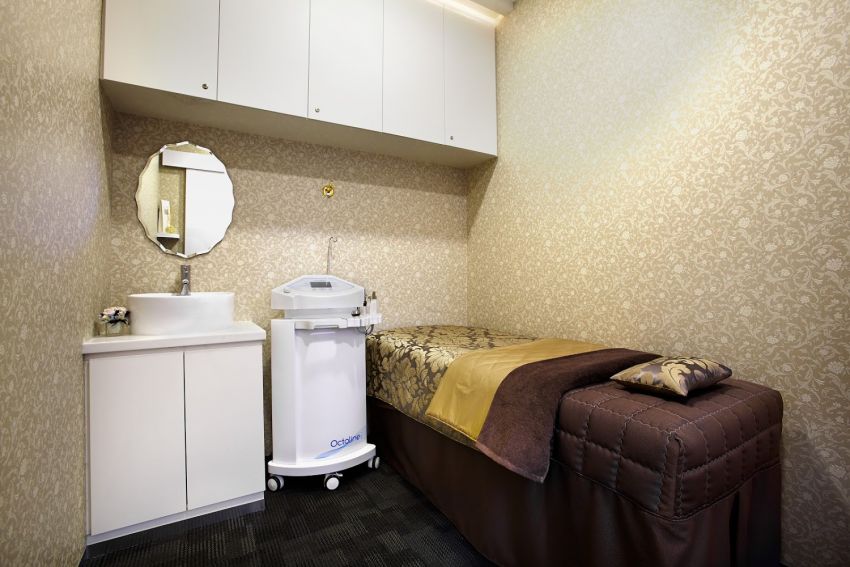 Credit: Aeon Medical and Aesthetic Centre
Branded as a Korean aesthetic clinic that specializes in non-invasive aesthetic procedures, AEON prides themselves for their ability to establish strong rapport between the patients and in-house doctors. Through their desire to provide "WHOLEistic" medical care, AEON aims to deliver satisfactory results to all of their patrons through safe and well thought out procedures.
Daebak factor: Dr Michael J. Kim, Medical Director of AEON, has received extensive training and experience since 2000. He has also received training at one of Seoul's most established dermatological clinics in Gangnam! With almost 20 years of experience under his belt, you can definitely trust Dr Kim to fulfil your needs.
Types of services: Anti-Wrinkle Treatment Program, Skin Brightening and Dark Spots Correction, Skin Tightening & Facial Contouring, Skin Exfoliation & Hydration, Reduction of Fat Areas & Cellulite Improvement, Non-Invasive Fat Reduction, Pore Reduction & Pigmentation Treatment, Laser Removal of Skin Tag + Mole, Post-acne Scars & Red Marks Treatment, Skin Firming & Tightening
Operating hours: Opened from Monday-Saturday, strictly by appointment only.
Location:
9 Scotts Road #06-02/03, Scotts Medical Centre, Pacific Plaza, Singapore 228210
Contact number: +65 6733 2002
Facebook page: https://www.facebook.com/aeonmedical.com.sg

Credit: BK Medical Group Aesthetic Clinic
A one-stop beauty clinic in Singapore, the roots of BK (also Beauty Korea) can be traced back to Seoul, South Korea, where it all began. With the mission to form the pinnacle of Asian Beauty, BK goes up a notch to offer innovative healthcare services catered to every individual's personal needs.
Daebak factor: BK Medical Group Aesthetic Clinic takes the extra mile to invent a customer satisfaction system that includes both before and after care services! It includes a series of steps taken by the company to ensure that your individual needs are well-catered to. For instance, they have a one-on-one care recovery system, that offers exclusive care to each patient, assuring that they get the best service while nursing back to health.
Types of services: Laser Treatment, Fillers, Botox, Skin Tightening, Hair Loss Treatment, Skin Rejuvenation, Korean Skin Therapy, Scar Revision, BK Signature Program
Operating hours:
Monday-Friday: 11 am to 8 pm
Saturday: 10am to 2pm
Sunday and Public Holidays: CLOSED
Location:
#08-05, 06 Novena Medical Centre, 10 Sinaran Drive, Singapore 307506 (Directly above Novena MRT)
Contact number: + 65 6397 5550
Facebook page: http://www.facebook.com/bkaestheticsingapore

Credit: littlemisshoney
With a mission to bring patrons an affordable and sustainable Korean aesthetic experience customized to one's personal needs, Gangnam Laser Clinic works together with Gangnam Aesthetics to provide the latest Korean technology services for your beauty needs. Gangnam also establishes themselves as being able to bring their patrons the Korean approach to Medical Aesthetics, right here in Singapore.
Daebak factor: For those running on a tight budget, Gangnam Laser Clinic is the place to be at. Treatments are often priced at affordable rates, which makes beauty a lot more sustainable over the long run. Besides, Gangnam's Signature Laser services can definitely help you achieve that glass-like skin you've often seen on Korean celebrities!
Types of services:
Skin Condition: Acne + Oily Skin Treatment and Control, Aging & Mature Skin, Skin Pigmentation
Treatments: Gangnam HIFU Ultra Facelift, Nose Fillers Vs Threadlift, Gangnam Signature Treatments, Gangnam V-Face Treatments, Gangnam Tightening Treatments, Gangnam Body Treatments, Gangnam Skin Treatment, Post Treatment Care
Operating hours:
Monday-Thursday: 11 am to 8 pm
Friday: 9:30 am to 6:30 pm
Saturday: 9:30 am to 1 pm
Sunday and public holidays: CLOSED
Location and Contact:
1 Maritime Square, #03-55 HarbourFront Centre, Singapore 099253
Tel: +65 6275 3381
-
1 Raffles Place, #05-10/11 One Raffles Place, Singapore 048616
Tel: +65 6536 8393
Enquiry Hotline: +65 9018 8415
Facebook page: https://www.facebook.com/gangnamlaserclinic

Credit: Shens Clinic
With over 2000 cases done across 19 years, Shens Clinic by Dr Shens is the go-to place for any form of plastic surgery procedures in Singapore. Having received training in Korea, Dr Shens is able to deliver high-quality services to fulfil the beauty needs of his patrons. Shens Clinic is also hallmarked for its motto, T.R.U.S.T, which represents transparency, respect, uniformity, safety and trust respectively.
Daebak factor: While Shens Clinic prides themselves for the numerous services provided, their signature expertise lies in breast enhancement (SIBA – short-incision breast augmentation), Korean style scarless double eyelid creation and Korean style scarless eyebags removal. These services are without a doubt necessary for you to achieve that look you have ever dreamed of!
Types of services:
Body: Short-Incision Breast Augmentation (SIBA), Breast Lift, Breast Fat Grafting, Breast Reduction, Nipple Reduction, Inverted Nipple Correction, Areola Reduction, Puregraft, VASER Hi-Def, Vaser Liposuction, Abdominoplasty, Tummy Tuck, Muscle Divarication Repair, Lipo Abdominoplasty, Belly Button Repair, Belt Lipectomy, Fat Transfer to Buttocks, Brazilian Buttock Augmentation, Thigh Lift
Upper Eyelids: Korean Style Scarless Double Eyelid Creation, Medical Epicanthoplasty, Lateral Epicanthoplasty, Incisional Upper Blepharoplasty, Ptosis Correction, Infrabrow Lift, Suprabrow Lift, Xanthelasma Excision
Lower Eyelids: Korean Style Scarless Eyebag Removal, Micro Fat Grafting, Pinch Blepharoplasty, Tear Through Correction, Dark Eye Circles Treatment
Face: Non-Surgical V Lift, The Liquid Facelift, Space Lift, Mid-Face/Cheek Lift, Short Incision Facelift, SMAS LIFT, Brow Lift, Buccal Fat Removal, Cheek Implant, Chin Implant, Dimple Creation
Nose: Rhinoplasty - Nose Enhancement, Misko Nose Threadlift, Nasal Implant, Alarplasty, Tip Plasty with Cartilage, Nasal Hump Correction
Neck, Ear, Lip: Neck Lift, Ear Lobe Repair
Skincare: Scar Removal, Mole Removal, Dermal Filler, Wrinkle Reduction, Hyperpigmentation Removal
Operating hours:
Monday-Friday: 9:30 am to 6:30 pm
Saturday: 9:30 am to 2:30 pm
Sunday and Public Holidays: CLOSED
Location:
Shens Clinic, 3 Killiney Road, Winsland House 1, #09-08, Singapore 239519
Contact number: +65 6904 4488
Facebook page: https://www.facebook.com/drshensclinic/

Credit: Dream Plastic Surgery
Dream Plastic Surgery Singapore is a regional specialist for plastic surgery and aesthetic treatments. Widely known for their bespoke plastic surgery services and non-invasive aesthetic treatments, these procedures are carefully curated by Associate Professor Vincent Yeow's long-standing experience in craniofacial and plastic surgery, which aims to deliver positive and natural outcomes.
Daebak factor: Launched in February 2014, Dream Plastic Surgery Singapore is a sister company of Dream Medical Group (DMG) in Korea, one of the most sought-after clinics with the largest A-List clientele in Korea. Together with DMG Korea, the Dream International Holdings (DIH), which holds both companies, aims to bring quality care, with a touch of flair, in the aesthetics field to both Singapore and the region!
Types of services:
Face and Neck Treatments: Medi-Facials, Light Therapy, Lasers, Anti-Wrinkle Injection, Fillers, Threadlift, Acne control and Scar Removal
Body Treatments: Correction of Excessive Sweating, Sseomagi RF Contouring, Woolssaela HIFU Contouring, Calf Reduction
Eyes Surgeries: Double Eyelid (Suture/Incisional), Eye Bag Removal (Scarless, Incisional, Fat Repositioning), Epicanthoplasty, Lateral Canthoplasty
Nose Surgeries: Nose Bridge Augmentation, Rhinoplasty Operation, Arrowhead Nose Correction
Face & Neck Surgeries: Cheekbone Surgery (Zygoma), V-Line Surgery, Double-Jaw Surgery, Pointed Chin Surgery, Face Lift, Korean Laser Sculpting Treatment
Body: Breast Augmentation, Breast Reduction, Breast Lift Surgery, Nipple Reconstruction, Liposuction, Abdominoplasty
Pediatric: Cleft Lip and Palate Repair, Craniofacial, Ear Deformities
Other: Hair Transplant, Hair Regeneration, Scar Revision
Operating hours:
Monday-Friday: 9 am to 6 pm
Saturday: 9 am to 12 pm
Sunday and Public Holidays: CLOSED
Location: 290 Orchard Road, #17-03/04 Paragon Singapore 238859
Contact number: + 65 6871 8888
Facebook page: https://www.facebook.com/DreamPSSG/

Credit: Tony Lim
ME Clinic Seoul is a premium aesthetic clinic from Seoul, South Korea. With just one outlet located in Singapore, one can definitely relish in the full Korean beauty experience with their combination of minimally invasive and non-invasive techniques and products.
Daebak factor: Their dedication to guarantee 100% transparent pricing is an absolute yes!
Types of services:
Signature Treatments: Signature 4D Face Rejuvenation, Korean Toning Laser Program, Instant V Shape Jawline, Ultherapy, Body Sculpting Program, Signature Baby Skin Healer, ME Glow, Rejuran Healer Therapy
Others: Ultherapy, Thread Lift, Super Hair Removal
Operating hours:
Monday-Friday: 11 am to 9 pm
Saturday-Sunday: 10:30 am to 7:30 pm
Location: 21A Mosque Street Level 2, #02-01, Singapore 059501
Contact number: + 65 6904 5536
Facebook page: https://www.facebook.com/meclinic.sg/

Credit: Mirage Aesthetic
The first botanically-inspired aesthetic centre where quality and customer orientated service comes first, Mirage Aesthetic aims to be the best spa in Singapore, using a combination of the latest non-invasive aesthetic technology and specialized skincare products from Korea. They are also featured in numerous social media platforms such as Harper's Bazaar and NUYOU!
Daebak factor: Mirage Aesthetic goes above and beyond for their patrons by providing extra mileage services such as Home Pick up and complimentary parking for their VIP guests.
Types of services:
Face: Signature Instant Korea BV Glow Laser Treatment, Signature Stem Cell Skin Booster Facial Treatment, BB Covered Perfect Touch Solution, Snail Slime Self-Repairing Treatment, Carbon Cinderella Laser Treatment
Body: Coolsculpting Fat Freezing Treatment
Hair: Super Hair Removal
Skin: Flawless Back Treatment, Body Whitening
Teeth: LED Teeth Whitening
Check out their website to find treatments that will fit best with your concerns!
Operating hours:
Monday-Friday: 11:30 am to 8:30 pm
Saturday-Sunday: 10 am to 7 pm
Location and Contact:
1 Tanglin Road, Orchard Rendezvous Hotel, #04-08, Singapore 247905 (Nearest MRT: Orchard Station)
Contact number: +65 6262 3358 / +65 6262 3378
-
3 Gateway Drive, Westgate Shopping Mall, #03-20, Singapore 608532 (Nearest MRT: Jurong East Station)
Contact number: +65 6266 0228 / +65 6266 0268
Facebook page: https://www.facebook.com/mirageaestheticsg/