Many of us have been riding on the wave of the acai trend, but do we really know what the grape-esque berry has to offer? Living up to its nickname "purple gold", these acai berries are filled with vitamins and nutrients aplenty, such as antioxidants, fiber, healthy fats and calcium. Ergo, they build up our immune system, lower the risk of many diseases and help keep our heart, muscles and nerves strong and healthy.
Whether you're on a health kick or just looking for a quick snack before the gym, an acai bowl is a pretty handy item to grab, not to mention delicious. So look no further as STYLEGUIDE brings you five convenient places to get your acai fix in Singapore!
Credit: Stranger's Reunion
Established since 2012, this cozy cafe lives up to its name as it aims for strangers, colleagues, friends or even family to reunite and bond over a wholesome meal. Despite only having three types of acai bowls on its menu, the bowls are more than good value-for-money and contain some of the cafe's freshest ingredients. Besides acai, Stranger's Reunion is renowned for its coffee so if you come by, definitely stop for a cuppa or two!

Address: 35 Kampong Bahru Road, Singapore 169356
Opening hours: Daily 9AM-6PM
Phone: +65 62224869
Credit: Parallel
Located in the heart of the CBD, Parallel boasts a selction of delectable acai smoothie bowls, with choices of Antioxidant, Superstar or Amino. Whether you want a regular or large bowl, one thing is consistent for sure - no sweeteners are added, just all natural superfoods packed with healthy nourishment in every bite.
Address: 1 Raffles Place, #B1-34, Singapore 048616
Opening hours: Mon-Fri 7.30AM-9.30PM
Phone: +65 97508997
Credit: Haakon
Armed with a mission to help everyone feel empowered and properly nourished, Haakon has designed its menu in such a way that it's inclusive for all diets and a variety of options, be it vegan, gluten free, low carb or even paleo friendly. Antioxidant rich and full of omegas, they have a total of four frozen acai bowls of goodness with different blends of fruit.
Address: 11 Tanjong Katong Road, KINEX #02-K3, Singapore 437157
Opening hours: Daily 11AM-9PM
Phone: +65 62825408
Credit: Seed & Soil
At Seed & Soil, they're dedicated using the healthiest, fresh and raw ingredients which possess healing purposes and nourishes the body and soul. The founders believe in eating a way Mother Nature intended us to - food in its most natural state. Their acai energy bowls are packed with a punch of protein and antioxidants, though they might taste more like a guilty treat than anything.
Address: 1 Tanjong Pagar Plaza, #01-22, Singapore 082001
Opening hours: Mon-Fri 8AM-8PM, Sat 10AM-5PM
Phone: +65 96440752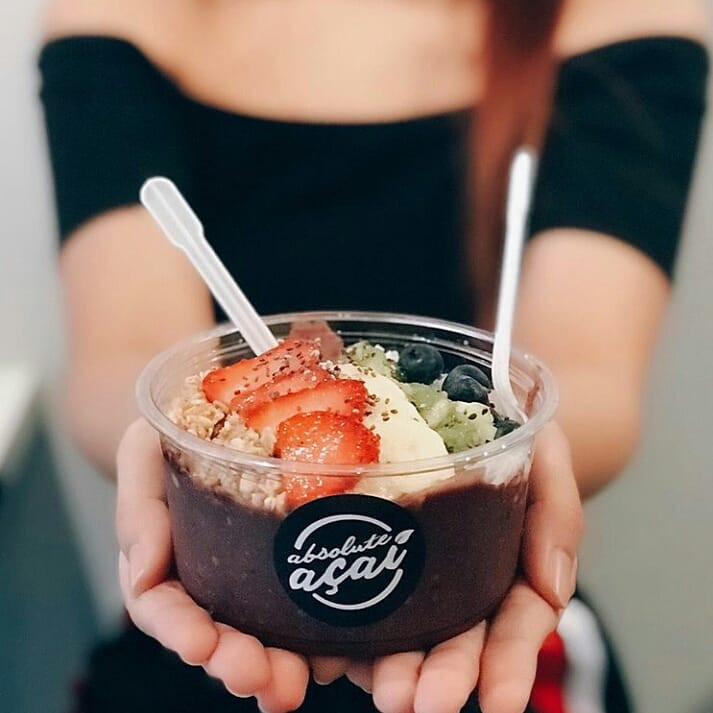 Credit: Absolute Acai
Another cafe located in the convenient central area, Absolute Acai promises to deliver authentic acai bowls featuring their own homemade acai blend, made up of premium quality acai and refreshing ingredients. A perfect blend of tartiness and sweet, their Signature bowls are certainly worth a try as they're also super cost-friendly!
Address: 3 Pickering Street, #01-38, Singapore 048660
Opening hours: Mon-Fri 10.30AM-8.30PM, Sat 11AM-5PM
Phone: +65 62244088
Featured Credit Image: Maridav/shutterstock.com