The Podium Lounge Founder Robbie Hoyes-Cock (L) with 3 Time F1 World Champion Sir Jacky Stewart at The Podium Lounge Singapore
From the poolside of The Ritz-Carlton to its grand ballroom, The Podium Lounge has evolved over the years to become a star-studded international event frequented by top celebrities and royalty even. Robbie Hoyes-Cock shares with STYLEGUIDE about the success of The Podium Lounge, and how it continues to get more exciting year after year.
How has The Podium Lounge changed over the years?
The Podium Lounge started by the poolside of The Ritz-Carlton, Millenia Singapore back in 2009 ,where we initially hosted about 600 guests per night over the Singapore F1 weekend. Fast forward 10 years, we've now hosted sell-out celebrity driven events in Monaco, Melbourne, Abu Dhabi (where we also hosted Red Bull Racing and Sebastian Vettel the year he became a living legend by winning his fourth consecutive FIA World Championship). Come this September, we'll be celebrating our massive 10th Year Anniversary in Singapore at The Ritz-Carlton, Millenia Grand Ballroom with our fans whom we have met since the very first Podium Lounge.
What's different for The Podium Lounge 2018?
We have a massive set of headliners this year including Joel Madden (Good Charlotte), Taboo (The Black Eyed Peas), Keith Duffy (Boyzone) and Brian McFadden (Westlife) will be performing on 14 - 16 September 2018. It'll be our largest celebration yet, with our three headliners pumping up the crowd each night. We've completely revamped the layout inside the ballroom, and installing the longest bar in Singapore – 22m in length covering one whole side of the Grand Ballroom.
The catwalk is longer this year as well and is LED lit, which is perfect as we are presenting stunning fashion shows and exclusive launches on all three nights. Apl.de.ap of The Black Eyed Peas and Asia's Next Top Model Host Cindy Bishop will be revealing LA's favourite luxury streetwear designer, MTHEMOVEMENT's latest collection Race Night, Sunday 16 September. Hip-hop inspired streetwear line EGO will put up his show on Friday 14 September and legendary guitar photographer Lisa S. Johnson will be debuting her new line, COSMIC 108, on Saturday 15 September.
The Podium Lounge 2018 - Grand Ballroom of The Ritz-Carlton, Millenia
We're also bringing in an Australian Burlesque Dance Troupe, with aerialists (silks & hoops), roving musicians, an incredible F1 Memorabilia Auction with proceeds to a local charity and an art exhibition by UK's hottest artist, Lincoln Townley, and a surprise guest artist performing too.
What were some of the biggest challenges that you faced?
Macy Gray's backing tracks on her laptop struggled to load with 30 mins till door open; finding Gordon Ramsay's entourage a VIP Table at the last minute on a sell-out night; getting Rudimental sober enough to go on stage in Abu Dhabi; dealing with Australian traffic police for the Lamborghini display on the curb outside Ms Collins Club in Melbourne; replacing Coolio after he was denied entry to Singapore on the day of his show; fitting Kim Kardashian's entourage into one lift at the Yas Viceroy in Abu Dhabi; and getting Hodor from Game of Thrones (DJ Kristian Nairn) to do interviews in a limo in Singapore (given that he's 6ft 11) – just to name a few!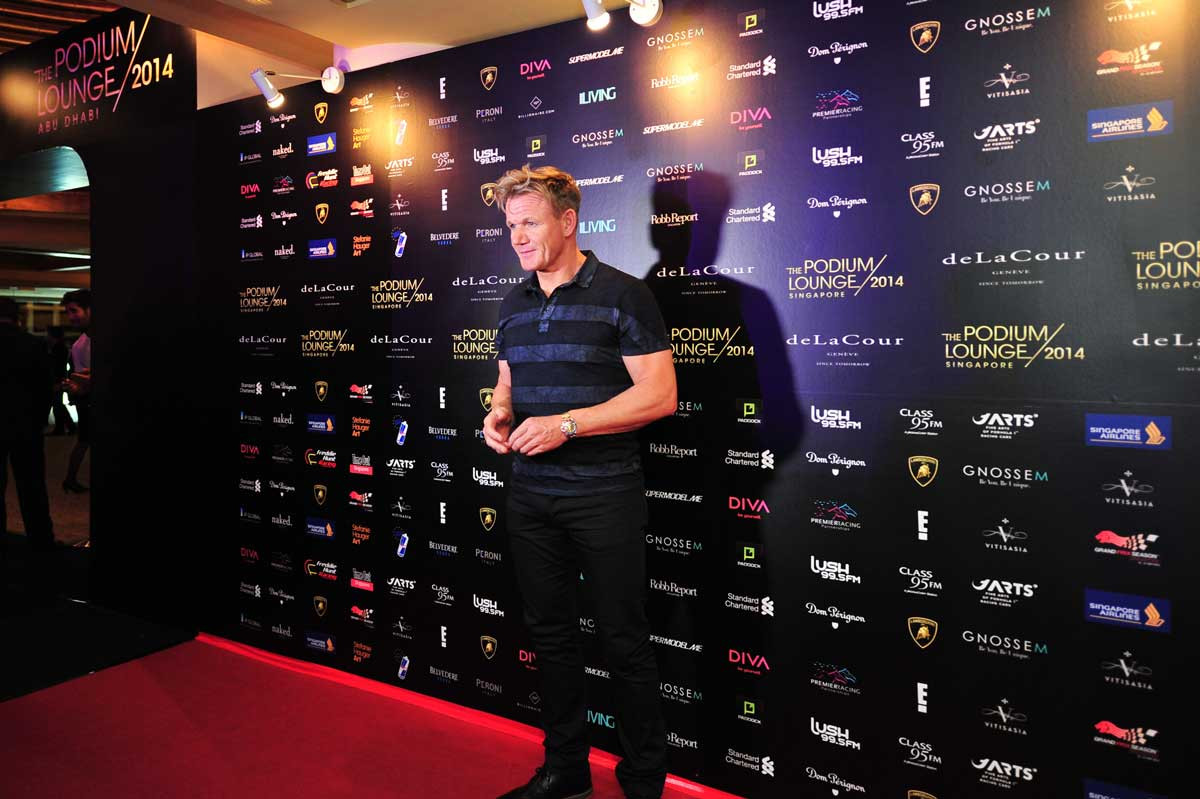 Celebrity Chef Gordon Ramsey at The Podium Lounge Singapore
What was the most unforgettable experiences you've had along this journey?
Telling jokes with Rio Ferdinand at the bar in Singapore two years ago; sitting with Sir Richard Branson and talking shop in the wee hours; and popping a 12L bottle of Moet Chandon together with Sebastian Vettel at The Podium Abu Dhabi.What else would you like to accomplish and what other dreams do you have?
We're constantly re-inventing The Podium Lounge, making it bigger and crazier every year. This year we've got a record number of sponsors and corporate hospitality clients celebrating with us, and the goal is to always make our parties even more memorable than the last one. There are a few cities on our radar for expanding the brand even further in the coming years.
If you could give your younger self one piece of advice, what would it be?
I have taken a lot of advice over the years, considering I started The Podium Lounge when I was 28. Loyalty is key and at The Ritz-Carlton, Millenia and together with the Grand Prix Season Singapore (STB) we have grown the event as partners every single year, making the event what it is today, hosting supermodels, celebrities, F1 drivers and legends, musicians, Royalty and Asia's jet-setting party elite.
F1 Legend Jackie Stewart at The Podium Lounge with CEO Robbie Hoyes-Cock
What is one change that you'll like to see in the world?
The eradication of jet-lag, so that tripping around the Formula 1 circuit would be a little less taxing.