It's no secret that Singapore is a melting pot of flavours when it comes to food. Whether you're looking for a fancy Japanese omakase dinner or a chic vegan food spot to hang with your friends, chances are that you'll find something that you love. These days, you can find a wide variety of halal food in Singapore across many cuisines, including Indonesian, Japanese, and Italian options. STYLEGUIDE presents our list of the top places to try halal food in Singapore.
What is Halal Food?
Halal is derived from the Arabic word that translates as "lawful" or "permissible" in English. For Muslims, any food or drink that falls under this category is permitted for consumption. Most food and drinks are considered Halal unless they are stated clearly in the Quran (holy book of Islam) and Hadith (prophetic sayings) as forbidden or non-Halal.
Examples of non-Halal items include the meat of dead animals and birds, pork, intoxicating drugs and alcoholic beverages.
(Source: MUIS)
Inspirasi Bedok
credit: Burpple
With a reputation for delicious Malay food at affordable prices, Inspirasi serves generous portions with robust flavour. Inspirasi's secret is in their lethal yet fragrant chilli, which adds an extra oomph to any of their dishes. They serve local favourites like mee rebus, mee soto, begedil (potato patty), and chicken porridge.
Address: Bedok Interchange Hawker Centre #1-64, 208B New Upper Changi Road Singapore 462208
Hours: 11am-11pm daily
Yes! Nasi Kukus
credit: Burpple
Experience Nasi Kukus and Nasi Dagang at Yes! Nasi Kukus. Originally from Kelantan, Malaysia, this dish features individual rice portions steamed in traditional aluminium bowls. With robust curries and succulent proteins, this stall serves fragrant and delicious dishes at an affordable price point.
Address: 573 Woodlands Drive 16, #01-01, Singapore 730573
Hours: 10am-9pm daily
Uncle Penyet Fusion
credit: Burpple
A popular choice among NUS students, Uncle Penyet Fusion's signature chicken dishes are well-marinated, succulent, and flavourful. Served with their sambal belacan chilli, this is an affordable and delicious option to try.
Address: University of Singapore, 12 Science Drive 2, Singapore 117549
Hours: 7.30am-5pm, closed on Sunday
Straits Cafe
credit: Straits Cafe
Featuring a scrumptious buffet spread of regional favourites with flavours from Panang, Melaka, Kuala Lumpur and Singapore, Straits Cafe is the place to go for delicious halal fare. On Fridays to Sundays, the buffet includes a Seafood Sambal Live Station, where a wide selection of fresh seafood and greens are prepared to order.
Address: 9 Bras Basah Rd Rendezvous Hotel Singapore, Level 1, Singapore 189559
Hours: 6.30am-10pm daily
Tipo Pasta Bar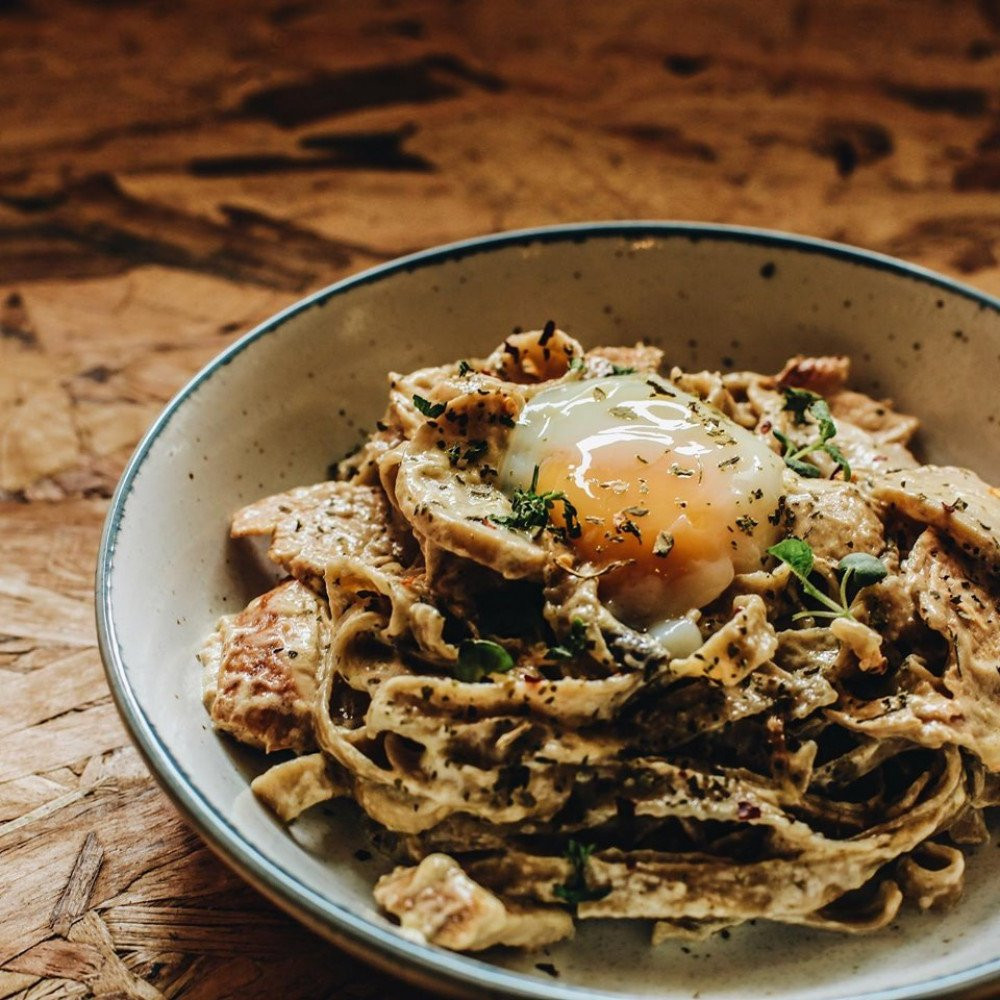 credit: Tipo SG
An artisanal pasta bar serving a unique variety of dishes, Tipo prides itself in hand-crafted pasta using high quality ingredients. It derives its name from Tipo 00, a type of wheat flour from Italy that has a smooth and silky texture. From Dill & Lemon Fettuccine to Saffron Fusilli, the permutation of flavours are endless.
Address: 785 North Bridge Road, Singapore 198753
Hours: 12pm-10pm daily
665°F
credit: Chope
Situated at the 38th floor of Andaz Singapore, 665°F is a premium steakhouse featuring prime cuts and sustainable seafood straight out of a Pita charcoal oven. Priding themselves in the great views, quality food, and warm hospitality, 665°F is a great halal date night option. On Wednesdays to Fridays, they offer a set lunch with a wide variety of choices.
Address: 5 Fraser St, Level 38 Andaz, Singapore 189354
Hours: Sun-Tues 6pm-10pm, Wed-Fri 12pm-2.30 pm and 6pm-10pm
Tash Tish Tosh
credit: Tash Tish Tosh
Blending Western dishes with Malay flavours, Tish Tash Tosh reimagines American food with a local twist. Featuring one-of-a-kind dishes like Nasi Lemak Kucing and Mutton Toolang, Tish Tash Tosh also offers convenient WhatsApp delivery services.
Address: 50 Kandahar Street, Singapore 198900
Hours: 11.30am-11pm, closed on Monday
IndoChilli
credit: IndoChilli
Experience authentic halal Indonesian cuisine at IndoChilli Restaurant. Their pastes and spices are made from scratch with fresh ingredients based on traditional family recipes. Scouring Indonesia for the best tasting dishes in the archipelago, IndoChilli offers delicious food carefully prepared with traditional Indonesian cooking philosophy.
Address: 7 Wallich Street #B1-03, Singapore 078884
Hours: 11.30am-10pm daily
Yassin Kampung
credit: Yassin Kampung
Yassin strives to capture the essence of authentic Singaporean cuisine through their succulent speciality dishes. With over 30 years of culinary experience, Yassin's head chef Muhammad Yassin Ng is a passionate and hardworking individual dedicated to perfecting his craft. Yassin's popular dishes include Chilli Crab, Crispy Oat Prawn, and Butter Milk Salted Egg Yolk Chicken.
Address: Kampung Admiralty, Block, 676 Woodlands Drive 71, #01-03, 730676
Hours: 11am-10pm daily
Hararu Izakaya
credit: Harāru Izakaya
As Singapore's first Muslim-owned Izakaya, Hararu serves charcoal-grilled dishes in a family-oriented setting with the authentic feel of Japan. Serving delicious favourites like grilled A4 Wagyu beef and Ten Zaru Udon (Noddles in beef broth), Hararu is the ideal halal choice for delicious Japanese fare.
Address: 16 Bussorah St, Singapore 199437
Hours: Mon-Thu 12pm-3pm and 5pm-11pm, Fri-Sun 12pm-11pm.
The Dim Sum Place
credit: The Dim Sum Place
Dishing halal-certified Cantonese cuisine, The Dim Sum Place is one of the only restaurants in Singapore that serve halal Xiao Long Bao. Known islandwide for their delicious food including Crystal Shrinp Dumpling, Custard Bun, and Vermicelli Roll, The Dim Sum Place also offers other food choices like Indonesian Curry Prawn and Herbal Duck.
Address: 791 North Bridge Road, Singapore 198759
Hours: Sun-Thu: 11am to 2:30pm, 5:30pm to 11pm; Friday, Saturday & eve of PH: 11am to 2:30pm, 5:30pm to 5am
Brothers in Fine Food
Comprising a young, passionate team set to bring out the best of fresh and interesting ingredients, Brothers in Fine Food blends modern and traditional cuisines together to create unique and flavourful dishes. Mouss Kamal, the founder of the cafe restaurant, strives to open up new perspectives on food through a creative interplay of textures, colours, and flavours on the plate.
credit: Brothers in Fine Food
Address: 5 Tampines Ave 3, #02-07, Tampines West Community Club, Singapore 529705
Hours: Tue-Fri 12pm-10.30pm, Sat-Sun 9am-10.30pm
Hjh Maimunah
credit: Hjh Maimunah
Experience traditional Kampung-style cuisine at Hjh Maimunah Restaurant. With a wide selection of delicious, flavourful dishes, it's no wonder Hjh Maimunah never fails to draw a crowd at lunchtime. Their signature favourites include Juicy Sundanese Grilled Chicken, Lemak Siput, Sambal Goreng, and Beef Rendang.
Address: 11 Jln Pisang, Singapore 199078
Hours: 7am-8pm, closed on Sunday