Shima set foot in Singapore in 1980 before finding its way to Goodwood Park Hotel. Known for their Teppanyaki and Sashimi, Shima is all about colors, texture, consistent taste and quality, on top of great culinary skills.
Inspired by the seasons, award winning chef Hoshiba Fumihiko has specially curated a seasonal winter kaiseki menu. Kaiseki is a traditional style of Japanese cuisine where a series of small, intricate dishes are served. Tastes, textures and colours all intertwine in a unique way that accentuates the flavours of each ingredient.
I popped in with fellow Styleguider, Carol, to have a taste of their $88 Dinner Set, where we found ourselves indulging not only in the freshness of the fishes and seafood, but also in the beauty of the colours represented throughout our eight course dinner. We were attended to by extremely thoughtful staff who never missed a single need at the table. The meal charmed all our five senses and filled our bellies and souls just right.
Course 1: Appetizer
Bamboo Shoot Konabushi, Lilyroot Sharp, Ogawa Salmon, Oriental River Prawn, Octopus with Soft Oak, Ear Rice
I will not lie – my favourite was the ear rice! It is super addictive, tastes like lightly salted popcorn and you have to physically touch and peel each grain off its stalk, then pop it into your mouth, where the crunchiness and lightness silently erupts on your tongue.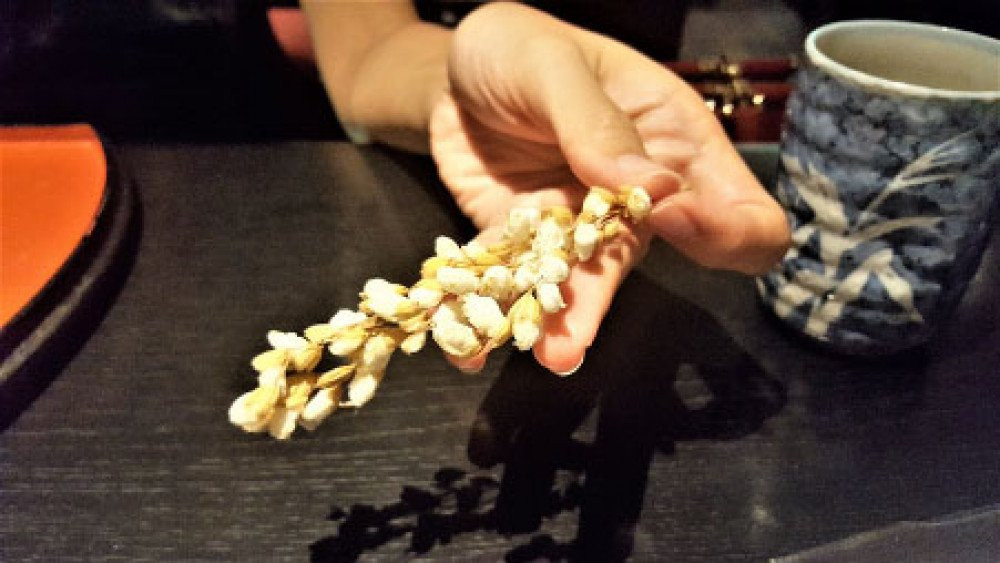 Although I did find the little glass of rape blossom a tad salty, Carol loved it. This appetizer had a delicate balance of sweet and salty, with a touch of sourness from the Ogawa salmon. The lilyroot tasted sweet, creamy, yet firm and made both of us swoon the moment it melted in our mouths.
Course 2: Sashimi
Chef's Selection of Seasonal Sashimi (3 Types)
We were served prawn, tuna belly, and flounder fish. Besides the freshness of the ingredients, it's the thoughtfulness in the design of this dish that caught my eye – the bright colours that balanced out the rain outside and the light glowing underneath the ice. It was a pleasure to simply admire it, and take Instastories to show off!
When we finally got to eating, we found the spring onion nestled at the centre of the slices of flounder an impeccable crunch added to the softness of the fish. The tuna belly was an incredibly generous cut and the prawn was full of its natural sweetness.
Course 3: Steamed Dish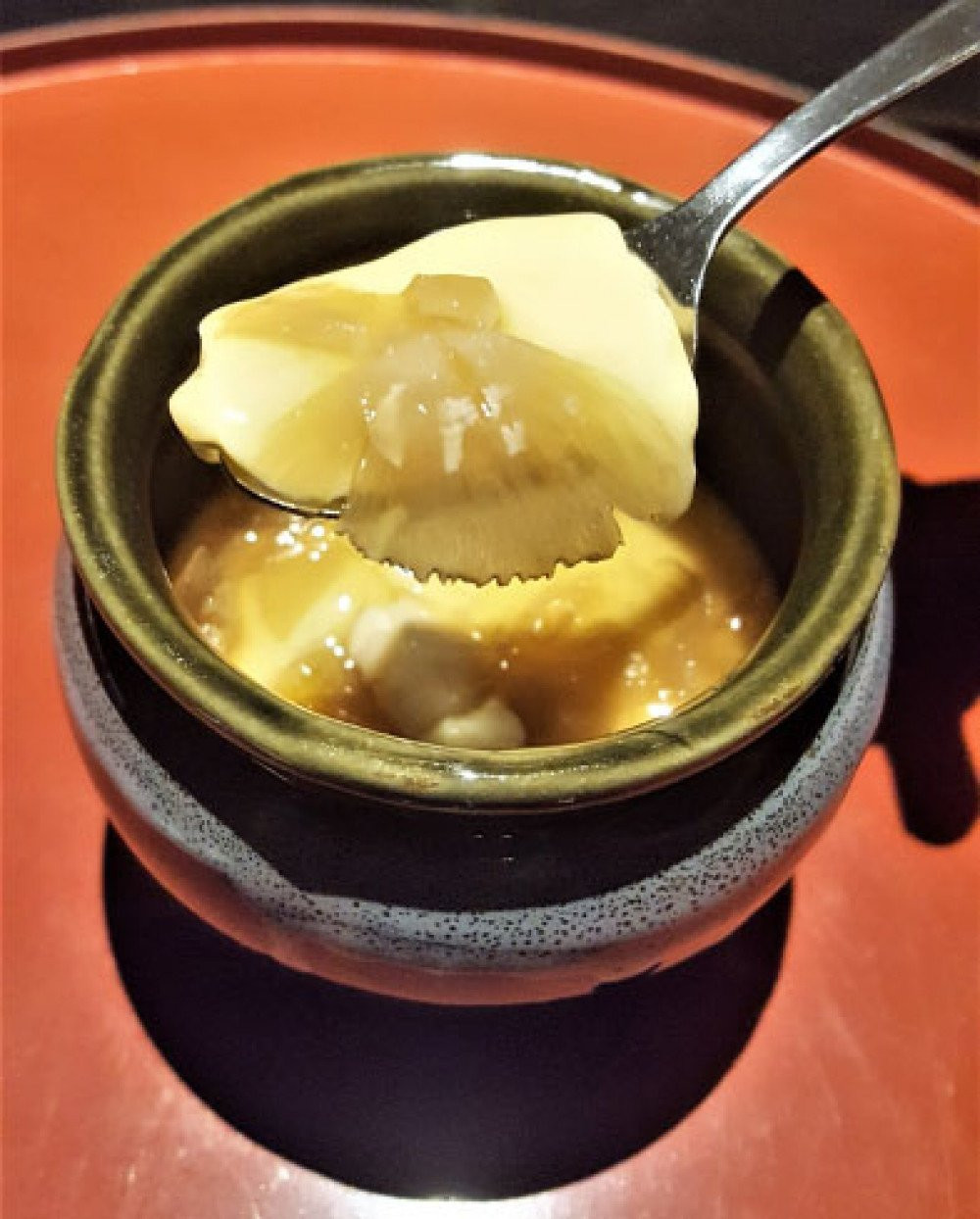 Chawanmushi with Shark's Fin
I wouldn't usually eat shark's fin but both Carol and I were pleasantly surprised by the sneaky layer of sesame tofu snuck underneath the chawanmushi. I just love the little subtle intrinsicities of this dish.
Course 4: Grilled Fish
Golden Grilled Lobster with Wakamomo (Peach) and Hajikami (Ginger Root)
We couldn't stay calm with this dish! I am a big fan of lobsters and both Carol and I absolutely LOVED the baby peach! The cheese added a creamy texture to the lobster, it's perfectly cooked and not tough. We let the baby peach burst between our teeth and Carol almost fainted from falling in love with it. Shall I just say that writing this just doesn't do justice to how much we loved this?!
Course 5: Cooked Food
Red Snapper & Prawn Served with Rape Blossoms, Wheat Bran Colouring and Yuzu
A common theme that runs through this dinner is the fact that nothing is over seasoned. We could taste the natural sweetness of the red snapper and it almost melts in your mouth. While I prefer my prawn sashimi style (explains the first picture of this article!), this prawn is cooked to a crunch and the tinge of soy sauce in this dish brings out the freshness of both fish and prawn.
Course 6: Fried Dish
Snow Crab Wrap Mushroom, Wildplant, Ricepaper
The little ball of green is a wild plant called Fuki. It is slightly bitter, of which I am not a fan of, but I guess it did wake my taste buds up before I chewed on the sweet pumpkin and fully enjoyed its starchiness. Although fried, this dish wasn't greasy, the crab meat was still succulent and you can feel the contrast between the crunch of the shell and the tenderness of the flesh.
Course 7: Noodles
Shoudoshima Olive Noodles
Shoudoshima is an island in Japan, famous for being the first in Japan to successfully cultivate olives. This noodle is similar to soba, which more of us are familiar with. Soba is a little firmer, while Shoudoshima Olive Noodles is softer.
Course 8: Dessert
Fresh Fruit & Dessert of the Day
As we approached our final course, we couldn't help but notice how wonderful this dinner is for those of us who are health and calorie conscious, but yet want to enjoy a satisfying and balanced meal. I especially loved the pear and bite sized cakes. Instead of eating the cake bite by bite, I strongly recommend you to put the entire slice in your mouth, sit back, and experience how the cake melts in your mouth. Its sweetness is not over powering and will conclude your meal perfectly.
We continued to hang out until we were the last customers around. By the time we decided to take our leave, we felt as though we've been brought on a detailed yet relaxing journey of the senses.
Shima Fine Japanese Cuisine, Since 1980
Address: #01-00, Goodwood Park Hotel, 22 Scotts Rd, Singapore 228221
Opening Hours (Daily): 12 – 3pm (Lunch), 6 – 10.30pm (Dinner)