It's no secret that Singaporeans are a stressed out bunch and we are only getting worse. A spa day, which used to be a luxury, is becoming more of a staple on many calendars. Especially with the increased usage of facemask during the COVID pandemic, Maskne (acne caused by mask) is getting prevalent these days; and normal facial treatments just don't cut it anymore.
Whether you're a spa newbie or a seasoned veteran, it's important to do your homework before your day out. After all, you don't want to spend precious time and money, and come back more stressed and unsatisfied. Luckily for you, we have you covered. Here's your complete cheat sheet of what you need to know before your next facial treatment!
Getting to know your skin
To make the most of your facial visit, you need to know what to get once you are there and it all starts with knowing your skin.
Taking the time to learn about your skin's specific needs will help you to choose the right options for self-care. The right choice will help balance your skin, resulting in a healthier, more radiant complexion. Here are a few ways you can figure out your skin type.
The Bare Faced Method
Cleanse your face thoroughly and gently dry. After 30 minutes, examine your cheeks, chin, nose and forehead for any shine. After another 30 minutes, evaluate whether your skin feels parched, especially if you smile or make other facial expressions. If your skin feels tight, it's likely dry. If there is noticeable shine on your skin, it is likely normal/combination. If there is also shine on your cheeks, you most likely have oily skin.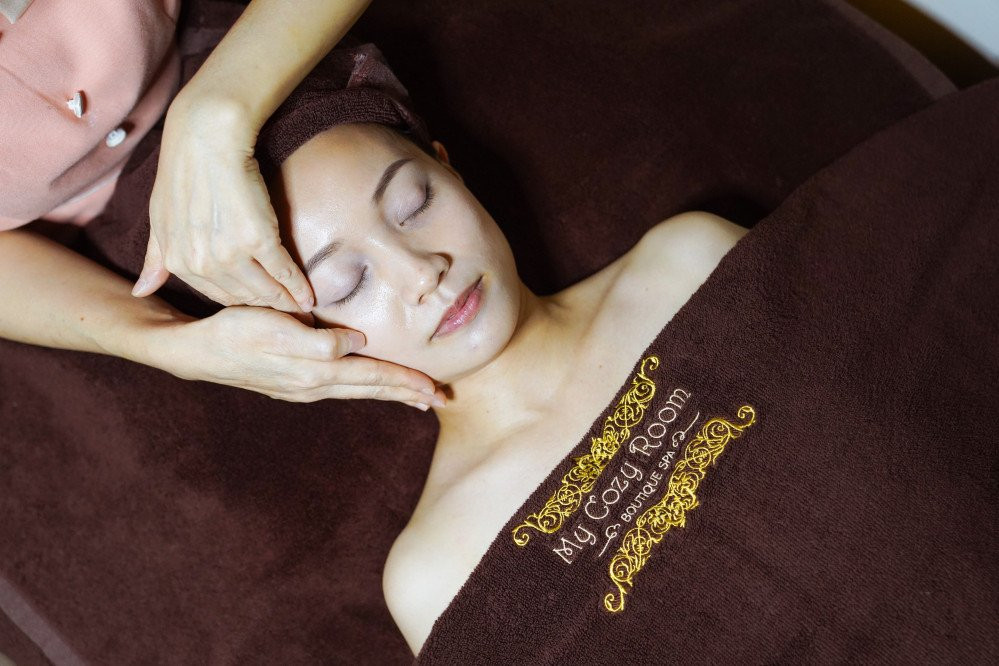 The Blotting Sheet Method
Gently pat a blotting paper on different parts of your face. If the sheet picks up little to no oil, you might have dry skin. If the blotting sheet reveals oil from the forehead and nose areas, your skin is normal/combination. Finally, if the blotting paper is saturated with oil, you have oily skin.
Meet your new Skincare Saviour
Let's be honest, the spa you choose can make or break your well-deserved spa day. So let's take a weight off your shoulders and introduce you to My Cozy Room Facial Spa, your skincare solution to tackle your skin issues and provide you with clearer and brighter skin!
Tucked away in the heart of Orchard Road, this spa exudes regal feminine vibes. It's classic white and gold interior helps to set the mood for some serious pampering. The victorian-esque spa is also filled with bright flowers and well-lit candles and a show-stopping chandelier. (Just don't swing from it.)
But what really makes this spa stand out is the accolades it has gotten. Known through its reviews for having the best extraction facial in Singapore, My Cozy Room Facial Spa boasts effective results and an extreme indulging experience.
And like any best friend, My Cozy Room Facial Spa has the answer to all your problems. Here are their recommendations for all your skin care needs!
Best Facial for Acne Skin
Did you know that it's normal to suffer from acne well after your teenage years? In fact, acne is so common that it has its own skin type to help fix those scars and marks left behind by fumbling hands. Accumulating all your sweat, makeup and oil behind the facemask also leads to increased breakouts that are also known as Maskne. Maskne is usually a more serious type of acne caused by your mask, and are usually more difficult to treat.
My Cozy Room Facial Spa recommends the Anti-Acne LED Facial for those prone to acne on your skin. Their cooling blue LED light therapy penetrates deep into the skin, stimulating acne-causing bacteria and then making them work against each other to self destruct! The best part? It's completely painless and risk-free in comparison to general laser treatments that might cause heat damage and photo-ageing wounds.
Best Facial for Clogged Pores/ Combination/ Oily Skin
A late night dive down the YouTube rabbit hole quickly introduces you to a lot of extraction videos, which are surprisingly satisfying. Although it can sound painful, getting rid of the gunk in your skin is an essential part of the treatment.
My Cozy Room's award-winning Premium Pore Extraction Facial ($288) is a great treatment for clogged pores and works on combination and oily skin types. The facial involves a deep cleanse, after which a gentle but thorough extraction method is used. In fact, My Cozy Room Facial Spa is known to provide relatively pain-free extractions that cause minimal redness after.
The Premium Pore Extraction Facial focuses on purifying and clarifying skin and uses the Doctor BABOR range of products targeted for acne and clogged complexions. These BABOR products contain an intelligent active system that helps regulate your skin's natural bacterial flora and remove any unwanted shine as well as prevent excessive sebum production.
Best Facial for Dry/ Dehydrated/ Sensitive Skin
Despite Singapore's humid climate, there are many people with dry or dehydrated skin. This type of skin can be very sensitive and needs some serious moisture.
To achieve glowing hydrated skin almost instantly, My Cozy Room Facial Spa recommends another award-winning facial, the Premium Illuminating Facial ($288) which is perfect for this skin type. The treatment uses BABOR's premium range of skincare infused with Alpine Rose stem cells to revitalise your skin. Plus, it comes with a premium Alginate Peel-Off mask kit and a pampering head and shoulders massage.
Best Facial for Anti-Aging Skin/ Whitening
Unsurprisingly, all of your grandmother's raving about Bird's Nest was right.
The Premium Royal Bird's Nest Facial ($388) remains a firm anti-ageing favourite on My Cozy Room's facial menu. Bird's Nest promotes epidermal growth and can boost skin and tissue repair, visibly improving signs of ageing.
Its anti-inflammatory properties allow for brightening and promote moisture balance. My Cozy Room Facial Spa even uses a combination of radio frequency technology and red LED light to ensure optimal absorption.
Customers can expect a powerful anti-ageing fix that brings higher collagen production, faster cell metabolism and dilution of skin pigments, which takes years off your face!
At the end of the day, remember that going to a spa is about enjoying yourself. So sit back, relax and soak in all that pampering. The first place where stress shows is on your face and that can be a confidence killer. Remember to take good care of your skin as a good and healthy complexion can give you that little boost you need to soldier on.
First-timer to My Cozy Room Facial Spa? You can enjoy all these indulging and effective facial treatments at 50% off! *Valid for first-time customers only
Register your interest here: http://mycozyroom.com.sg/bestfacialpromo
WhatsApp: 8666 0030