From sandy beaches for sunset watching, to hidden alleyways filled with the best food you will ever taste, traveling from one country to another has been a lot easier in this day and age. However, instead of going to common places that you will easily find on TripAdvisor or your Instagram feed, why not challenge yourself to go somewhere out of the norm? Here are 10 places off the beaten track that are worth discovering.
Hitachi Seaside Park in Ibaraki Japan
If you're a flower lover that is planning on taking a trip to Japan, this is definitely a destination you would not want to miss. Just less than 2 hours away from Tokyo, feast your eyes on the beauty of millions of brightly coloured flowers waiting to greet you. Baby blue eyes, sunflowers, cosmos and kochia bush are the types of flowers that attract tourists from all over the world to this lovely park. The best time to visit Hitachi Seaside Park depends on the type of flowers you would like to see. Hence, the best months to visit the park will definitely be April, May, August and October. Although flower enthusiasts might argue that the flowers are the main attraction, there is also an amusement park for you to have a little fun at.
Photo Credit: Instagram @nomad_traveler2018
Aquarium in Rangiroa
Swimming through sparkling turquoise water and breathtaking views is an experience that nobody would want to miss. Known as the world's most immense aquarium, this is definitely the place for divers and snorkelers to discover the great underwater world. The best part of visiting this wonderful place is that it is not always tourists first choice due to it's inaccessibility. This allows you to feel peace and tranquility, which can be hard to get when you visit more popular destinations while you're on holiday.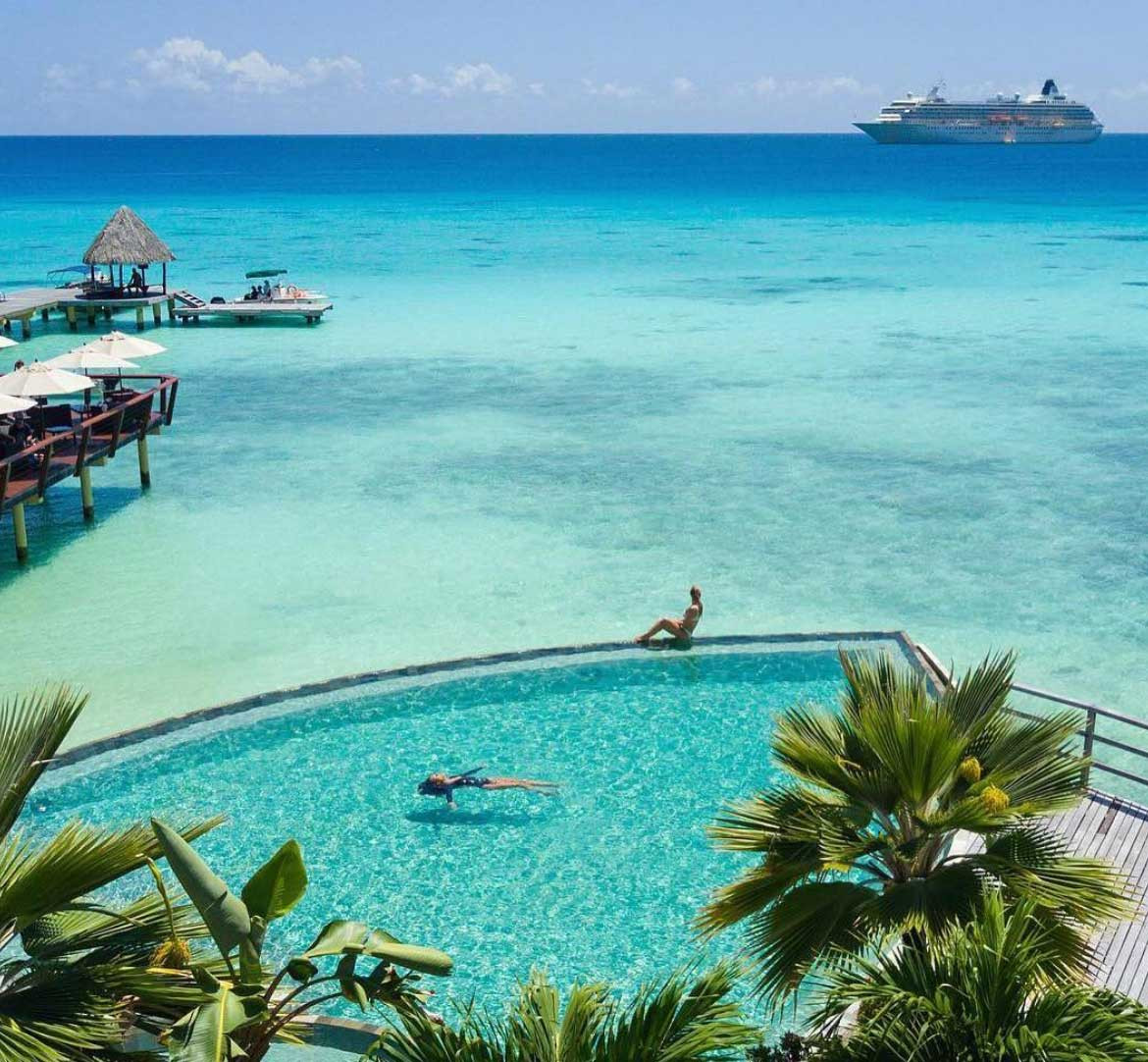 Photo Credit: Instagram @Travelmotiv
Western Brook Pond in Canada
Do not be fooled by the name of this hidden destination in Canada. The Western Brook Pond is actually a huge fjord that will be sure to make you feel like you're looking at a painting. It's beauty has always been mesmerizing visitors and a picture here will make you Instagram feed look twice as good as it already does! You will even be able to partake in hikes with a trusted guide to see the wonders this hidden gem bestows.
Photo Credit: Instagram @kbolinger165
Pearl of the South in Cuba
Visited by very few tourists a year, the colourful facades and eloquent French and Spanish architecture will give you a wholesome sense of cultural and historic appreciation. This UNESCO-listed city is known to be one of the most beautiful place in Cuba. Be sure to check our their art studios, where you'll be able to carve a souvenir for your loved ones out of linoleum.
Photo Credit: Instagram @_evexo
The island of Manono in Samoa
If you are looking for a peaceful and relaxing holiday by the beach, this place is just for you. You will not spot cars in the island of Manono, as this destination is the ultimate go-to if you would like to get away from the busy bustling that comes with life in the city. Locals of Manono live in traditional open air-fales and there are a number of fishing villages for you to explore. There is even a marine protected lagoon if you feel like going for a dip, or have a go at snorkelling. You will be sure to appreciate the calmness that comes with living on an island, and the friendly locals will help you feel at home.
Photo Credit: Instagram @littlekiwiamber
Kutna Hora in Czech Republic
With trains from Prague just taking about an hour to reach Kutna Hora, this impressive city will blow you away with its cobbled streets and grand architecture. A must-see attraction is the 'bone church' that is adorned with bones. The surrounding areas of Kutna Hora is filled with lush woodlands. Hence, a place you will like to visit if you want to experience the best of both worlds.
Photo Credit: Instagram @tallmoores

Port de Soller in Spain
Forget about the drinking and crazy partying that comes with a holiday in Majorca, there is a whole other side in Soller that you might not know about. The Port de Soller will impress you with its whitewashed houses and restaurants along the boating harbour. You will also be able to explore the impressive old paths up through So Mola Mountains for a quaint but exhilarating adventure.
Photo Credit: Instagram @lisapetrick
Tuophema in Nagaland
Ever wished for the chance to visit a tribal village? Now is your chance. At the very heart of Nagaland, Tuophema is the place for tourists who are keen on appreciating and learning more about the Angami Naga tribe. Immerse yourself in the food and activities that the welcoming locals will offer you, and even partake in traditional dances that will be sure to keep you on your feet. You will definitely not be able to experience something like this anywhere else.
Photo Credit: Instagram @indus_trails
Samarkand in Uzbekistan
A combination of history, culture and beauty. Home to ancient mosques and the mausoleum of the famous Tamerlane, Samarkand is a city on the silk road. Titled by UNESCO as a city with crossroads of culture, the lessons you will take out from the history of this place is never-ending. Be sure to check out the Bibi-Khanym Mosque which was once known to be the biggest mosque in the world.
Photo Credit: Instagram @her_wanderlist
Garajonay National Park in Canary Islands
A misty and humid densely forested area on La Gomera, one of Spain's Canary Islands, is a national park that gives you a guided tour experience like no other. With breathtaking sceneries and fantastic vegetation, the park will make you feel like a character from a fairy tale who's finding his/her way through the forest.
Photo Credit: Instagram @upsidedownralu